The 7th edition of the Simplesmente… Vinho fair is over. This is an arrangement in Porto for individual, artisanal wine producers with a focus on natural and sustainable farming. The venue is Cais Novo, a renovated 18th-century palace only a few meters from the Douro river. This time 101 producers participated, mostly Portuguese, a few visitors from Spain, and some that had travelled longer, in fact all the way from Brazil. There was food, there was music, and among the specially invited were Os Goliardos (Silvia and Nadir), who are very active on the country's wine scene, especially in Lisboa. The fair is organized by João Roseira, himself an important producer in the Douro region.
There were many producers that I knew from before, but also some revelations. I will be back with more. For a start, here are just a few of the many Portuguese highlights of the fair. I will try to limit myself to one wine per producer (although you will see that this is a difficult task).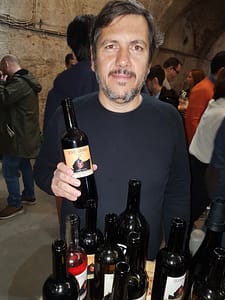 António Marques da Cruz
António Marques da Cruz, is 5th generation farmer at Quinta da Serradinha in Leiria, in the DOC Encostas de Aire. The quinta encompasses 6 hectares of vineyard on clay-limestone in an Atlantic climate. António has a good hand on both sparkling, white, rosé and red wines, and he can make wines that last. His 1999 baga is a wine that really stands out. I started the fair with visiting his table (or: barrels, that is what they use here), and what could be better than to start this tour with his Serradinha Castelão 2017. Quite dark, young colour; very fruity with cherry, plums; mellow in the mouth, luscious and fabulous drinking, with a fresh, natural acidity.
João M. Barbosa
João M. Barbosa was formerly with the big Dom Teodosio company. Now he carries on his family's long tradition. He is located near Rio Maior in Tejo, but he has also vineyards in Portalegre, Alentejo, around 6 hectares in total. He brought a nice sparkling and a red Escolha, and I also fell for the Ninfa Colheita Branco 2016, a barrel-fermented white from sauvignon blanc and fernão pires. But as my one wine here I chose Ninfa Vinhas Velhas 2016, a no-oak, "no-nothing", natural wine, a field blend dominated by castelão (accompanied by trincadeira, camarate, alicante bouschet and others). The grapes are grown in calcareous clay soils, in a Mediterranean climate with Atlantic influence. The south-facing exposure enjoys a good sun exposure. The yields are low, that result in concentrated grapes and ageworthy wines. The wine shows a good cherry colour; an earthy nose with blackberry, cherry and some balsamic notes too; tasty, with ripe tannins, and a luscious freshness.
Pedro Marques (left), journalist Jamie Goode taking notes (at the opening dinner)
It's always a pleasure to taste Pedro's wines. He's always down to earth, absolutely honest about his wines, and explains in detail the challenges of each wine. The farm is located in Turcifal, in the Torres Vedras municipality of the Lisboa region. It's only 8 km from the sea, has a clay-limestone soil, Atlantic climate and a couple of his wines are aptly called Fossil.
Among the whites there was a fabulous version of the Fossil 2017 (both rich and tasty, and also lots of acidity), the unctuous arintos – and the Branco Especial, an interesting solera wine (a blend of 4 vintages, now aged in botti, big barrels from Barolo), with its amber colour, yellow fruit, flowers and apricot, and a structured palate. I really liked the Vale da Capucha Palhete 2017 from castelão, a light red wine; yeasty, flowery, with red berries, raspberry, a light CO2 pressure, and fruit all the way. I have written about the reds several times. They are of course good, and a wine like the red Fossil didn't disappoint in the 2016 vintage either. But the Vale da Capucha Vinha Teimosa 2014 you haven't read about here. It's made from touriga nacional and tinta roriz. 2014 was a very cold vintage, with a lot of rain. The wine is dark, with blackcurrant, green pepper, beetroot, and some earthy notes, and a type of balsamic note that Pedro thinks can be caused by a fungus that in a way "belongs to the vintage".
José Perdigão (right)
José Perdigão of the quinta that bears his name has a rosé that I have enjoyed for many years now. This time he brought a very nice strawberry/peach-coloured pét nat, that I can't remember to have tasted. But almost as emblematic as his rosé is the white Encruzado, now in its 2017 edition: Light golden; pear and white peach aroma with citrus and elderberry; fresh, vibrant and quite structured in the mouth.
Cabeças do Reguengo was a discovery for me last year, with their lovely orange wine Luminoso (this time in the 2018 vintage), the no SO2 red Felisbela (also 2018), the structured rosé and the "normal" Alentejo blend Courelas da Torre, both in plain and reserva versions – all from the northern, cool end of the region. Let's just have a look at the basic blend Courelas da Torre 2017 this time, from aragonêz, trincadeira and alicante bouschet: Dark cherry colour; mature berries, a touch of lickorice; full in the mouth, with tobacco, some spice. Very nice, and should be popular among all kinds of audiences. I didn't taste their Cabeças range this time. (But you can read this piece from last year's fair.)
Miguel Louro
Also in Alentejo Quinta do Mouro of Estremoz is a more established producers, one of the very best and respected of all. Delicious were the concentrated yet smooth, old barrel-fermented white Zagalos 2016 (from alvarinho 50%, arinto 30%, gouveio and verdelho), the light, somewhat fragile red Zaga Luz 2017 (a typical blend) and all the stylish reds that we have loved since many years. But let's have a look at something called Erro, from "error". In this unusual series there are three reds, called 1, 2 and 3, and this white Erro B 2015. It started out the usual way, but here the press broke, and the must was left with the skins. There is always some early picked arinto blended in, thus it's marked by a tough acidity. The colour is yellow; the nose shows yellow fruits, peel; it's complex and structured, with a superb acidity in the lingering farewell.
Vitor Claro
Vitor Claro is a former chef who started winemaking after a trip to Portalegre, Alentejo where he fell in love some vineyards, more than 80 years old. These are located at 650 meters of altitude and facing north.
The wines were indeed inspiring, such as the Destino 2018, a good acidity moscatel, and Claro 2018, a light malvasia. I ought to mention the Foxtrot Dominó 2017, made from the white moscato grapes that were not used for the white wine, and alicante bouschet, a "very" red grape (including coloured stems). The result is light red, quite mellow and with fine-grained tannins.
The one wine selection this time would be the Dominó Silvo Frio 2016, made from a field blend of classical Alentejo grapes: grand noir, trincadeira, tinta roriz, castelão, and also a white, arinto. The vineyards is mainly granite with some quartz. Fermentation is 50% whole bunches, and for the rest, whole grapes are macerated in inox for 60 days. The grapes are then pressed, and after fermentation the wines is aged in old Burgundian barrels and lightly filtered before bottling. The wine shows a clear red colour; fresh red fruits, some herbs and spice; good structure, and a fine acidity, but there are also nice fruit behind.
Tiago Sampaio
I tasted through the whole range from Folias de Baco, and Tiago Sampaio presented one wine more creative than the other. Among the best were the Uivo 2018 from alvarinho, with almost no colour at all, but lots of flavours dominated by pears, the Uivo Xpto Branco 2008-2018, a light orang, lemon peel scented, concentrated wine with 10 months of skin-contact and aged under flor – and a 100% botrytis, 5,5% alcohol, amber, honeyed, sweet wine called Uivo LH+. But our selected wine this time is Uivo Renegado 2018. This is a field blend from a centennial vineyard with around 40 different varieties. They were fermented together, mainly in cement. The wine is pinkish in colour; aromas of strawberries, seaweed maybe; smooth and luscious in the mouth, with a long, natural acidity. It's easy-to-drink kind of wine, but the age of the plants secures a concentration back there too. The best of two worlds.
Vasco Croft of Aphros Wines brought most of his wines. I visited him after the fair (a report to come), so here I will stick to my original intention and talk about only one wine. (Read also about his Palhete in a post from last autumn.) But now: Phaunus Loureiro 2017 was fermented in talhas (clay pots) and aged for 7 months on lees. It's light, slightly turbid; aromas of green-yellow apple, yeast, minerals; quite full, sappy, and with a good acidity from the variety.
We end our journey on Madeira, but not in the more normal way. Super producer of long-living madeiras Barbeito has made their first white table wine, called Verdelho 2017, with the designation DOP Madeirense. Winemaker Nuno Duarte explains that while verdelho is typically grown on the north side of the island, sercial (who makes up 4% of this wine) is cultivated in the south. The verdelho grapes were foot-trodden in lagares, and 30% aged in new French oak, the rest in steel.
The wine has a golden colour; aroma of apricot and pear, a bit waxy, but also with a nice citrus (lemon) zest; though it's in a way mellow it's very fresh with a good acidity too, and a saline finish. You can feel the tension of the Atlantic in this wine.
Leave a Comment