This is a wine from a private tasting of more or less unknown grape varieties, all beginning with the letter A. Here the official name is aspiran, but Thierry Navarre calls it ribeyrenc, according to local practise. Well practise… This is not a common grape anymore. There was a time when it comprised one third of the vast vineyard of Languedoc. But it was almost wiped away, first with phylloxera, then the extreme weather conditions of 1956.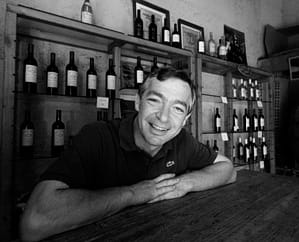 Thierry Navarre
(Credit: Thierrynavarre.com)
Thierry Navarre's grandfather managed to keep some vines. And there are two more known vintners, so the total is probably 7 hectares of ribeyrenc in Languedoc today. To be precise, we are talking about the ribeyrenc noir, as Navarre also has a tiny amount of ribeyrenc blanc.
This variety is well adapted to the Mediterranean climate, and in spite of being picked towards the end of September, the alcohol content is often low, in this case 11%.
Navarre is based in the Saint-Chinian, but as his grapes are not allowed in the AOC, the wines come under the designation Vin de France. The vines for this wine are grown on south-east facing slopes of slate, in red soil rich in iron. The farming is organic, the thin and fragile grapes are lightly crushed with stems, and fermented in cement.
Ribeyrenc 2015 (Dom. Thierry Navarre)
Pale ruby colour. Perfumed (violets), with smell of red berries and a hint of herbs (thyme) and white pepper. Mellow and juicy in the mouth, with a slightly peppery nuance and wonderfully balanced acidity.
Price: Low
Food: Light meat, charcuterie, bacalao, salads
Leave a Comment