Matritum, an old name for Madrid, is maybe not an especially well-known wine bar and restaurant. It's located in the neighbourhood of La Latina, where I often stay when in the Spanish capital, and I have never been disappointed.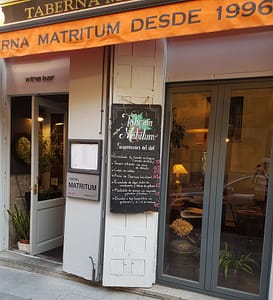 The Matritum kitchen proposes delightful dishes such as home-made foie-gras micuit, and seafood and meat dishes inspired from all corners of Spain. "
Anchoas del Cantábrico con 'pa amb tomàquet'" thus means traces of both Cantabria and Catalunya/Baleares.
The wine list has close to 400 references, many of them served by the glass. They are both local, they cover the most of the important Spanish wine areas, some less known, and also international. It seems that they have a special love for the wines of Sanlúcar de Barrameda, all of them also served by the glass.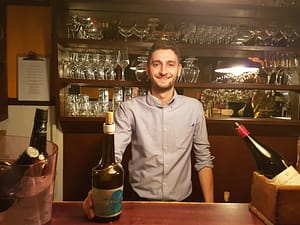 So over the years I have had a great many different wines here, and so this choice would maybe seen casual. Anyway, this time I had three wines, one of them a garnacha from Viña Zorzal. Okay, we are in Madrid, and beautiful garnachas are made right in the backyard. But let's not forget that the grape has a long history in Navarra. It's even possible that it once originated there.
Zorzal started in 1989, when Antonio Sanz, after a life in wine, fulfilled his dream of producing his own wines in Navarra. Today it's his sons who carry on what he started, and created Viña Zorzal, as we know it today.
Malayeto 2015 (Viña Zorzal)
Clear ruby red. Fresh aromas of blackberry, blackcurrant, pepper, and with some earthy hints. Medium body, round tannins and a long finish.
Price: Medium
Food: Red meat, game, tasty vegetables (incl. mushrooms, asparagus, Navarra piquillos)…
Leave a Comment