Ramón Saavedra is waiting in the main square when I arrive in Graena, a small village east of Granada. Otherwise it might have been difficult to find his home among all the other houses that apparently look the same.
Apparently. Because, as we shall see, when we enter the bodega area behind the house this is all but ordinary.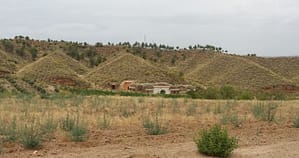 The municipality is called Cortes y Graena and is comprised of four villages. The word Graena is of Arabic origin, and the caves are a legacy of the Arab Andalusian period. A most special feature here are the thermal waters. In fact the name of the bodega is also inspired by the Moors; al-cauzon meaning something like the land of the sand.
Ramón Saavedra returned to his village to take over inherited land that he later planted with vines. He had then been working with Manuel Valenzuela of Barranco Oscuro, to help with pruning etc. In 1998 his first harvest was finally bottled.
The soil is sandy-clayey and calcareous with big, round stones. There is continental climate, with extreme summers with more than 25ºC difference between day and night in the maturation period.
It's a perfect place to make organic and natural wines, but since his own wines express such a crystal clear idea, I'm maybe a bit surprised by Ramón's pragmatic attitude about the trade in general.
-Well, for me it's not only about health, it's about the balance in nature. I wish that my wine should expressing the earth. But I respect everybody. However I wish that the communication is clear, what you say is what you do.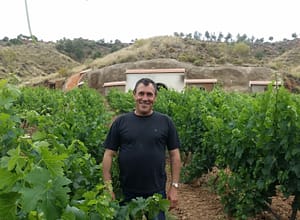 The grape variety next to the caves is garnacha. -I love the green, living colour, says Ramón
We are 1.080 meters above sea level, and some of the vineyards are at 1.200 meters.
Ecological cultivation, manual harvest, natural production. Wines without added sulfites and fermented with their own yeasts. Without additives of any kind. Its maximum annual production is 20,000 bot.
There are 7 parcels and a total of 6 hectars, all in the Graena village. Here are a lot of field blends from the old days. The cactus both delimits the vineyards and have a function in the biodiversity. Sheep compost is used as fertilizer.
-The panjil tree (also called Bohemian olive, or olive of Paradise) has a strong and inviting aroma, so the insects come here instead of attacking the vineyards, says Ramón. The Moorish people had a lot of knowledge about this.
Work has begun to make a new bodega
-In the old times people were living here. Now I also see a possibility for tourism. We wish to offer a form of rural accommodation here.
Thumbs up for a new bodega within two years!
We had the time for a tasting too. I will not bore my reader with the tank and barrel samples along the way. But here is a brief tale about the bottled wines. The white Cauzón 2015 from torrontés and some chardonnay, viognier and sauvignon blanc was dark orange, very juicy, grapey, elegant and smooth, but very sapid too. Duende 2015, a dark syrah from 1.200 meters of altitude, had violet, eucalyptus and other balsamic notes, wild berries and leather, nice fruit in the mouth, with bright acidity and pleasant tannins. The 6,5 grams of acidity comes from the high altitude.
Cauzón 2015 red from tempranillo was difficult because of the lack of rain. Therefore we don't find the same fruitiness, says Ramón, who is quick to fetch the same wine in version 2014, just to compare. This one clearly has more fruity berry notes, spice, and it tastes younger, overall. The Ira Dei 2014, tempranillo (or tinta fina), garnacha, cabernet sauvignon and merlot, partly from ungrafted stocks, has ripe fruit, some lickorice, but also a lot of freshness. The mouthfeel is quite dry due to more maceration of the three last grapes, but the fruit is there all the time. Lastly we tasted the Pi Noir 2014, and this was a concentrated pinot, also with some volatile, but with a fruity aroma with red berries in the forefront. Cauzor 2009 showed some sign of ageing towards the rim, but was in a good shape. It has some plum confit in the aroma, but there are fresh fruits too, and is delicious now.
Ramón Saavedra, always energetic and enthusiastic, and a distinctive voice on the Spanish wine-scene