I was lucky to get a table at Vinkontoret (The Wine Office), Stavanger, Norway on their last day. Now they have closed the doors.
This is a biodynamically farmed pinot blanc, also with some auxerrois. The vineyards sit on iron-rich clayey soils outside Andlau village. Some keywords: Hand-harvested, whole bunches, natural fermentation in old Alsatian foudres without additives, aging on the lees for up to a year, bottled lightly filtered with only a tiny quantity of sulphites.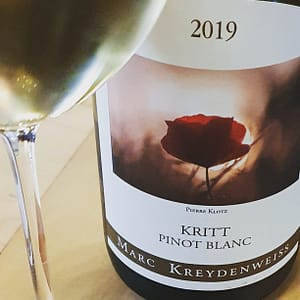 Kritt Pinot Blanc 2019 (Marc Kreydenweiss)
Light golden. Flowery, with pear, mature yellow apples and some herbs. Concentrated, round, creamy and somewhat buttery in the mouth, a small quantity residual sugar well balanced with the acidity. Long salty finish.
Price: Medium
Leave a Comment