I tasted this wine with its maker Carlos and his wife at wine bar Zaza in Barcelona during the Vins Nus and Vella Terra fairs of April.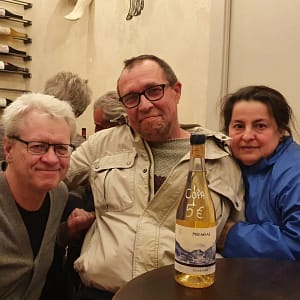 Carlos Rodríguez Furthmann began his project in 2015, focusing on native varieties made by minimal intervention. He is found in the small settlement of Selva in north-central Mallorca, where he farms around one hectare organically from clay and limestone soil, while purchasing a small amount of other grapes from local growers.
Premsal is a native Majorcan grape variety, here grown in a single vineyard in Felanitx. The winemaking process involves spontaneous fermentation, with part of it kept on its fine lees for two months. A small percentage of the wine is fermented in a Mallorcan clay amphora. Only a small quantity of sulphites were added. The wine is not clarified or filtered.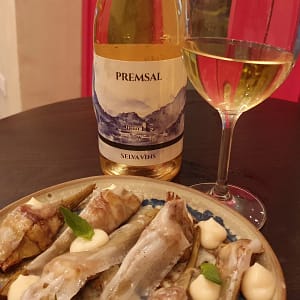 Premsal 2018 (Selva Vins)
Light straw colour. Aromatic, red apples, melons and citrus. Medium-bodied, dry, with good acidity.
Price: Medium