In my local wine club we had recently a tasting of nine riesling grand crus from Alsace, and one blend. The wines showed a generally very high quality. The prices are high, but considering the quality I find them competitive compared to many other areas.
None of the three so-called "conventional" wines excelled. Of these the Brand grand cru from the Turckheim cooperative was the most interesting, not least because of the price. Trimbach's wine from the same vineyard was way too expensive, and the Schlumberger southern Saering uninteresting. Among the natural and organic producers I found Gustave Lorenz' wine okay. Kreydenweiss' wine from the northern Wiebelsberg cru sadly had a touch of mousiness. But even so it was not difficult to tell that it is a fabulous wine.
Here are five wines that really stood out, all of them from the central area near Colmar, all of them good ambassadors for their respective crus and for the region.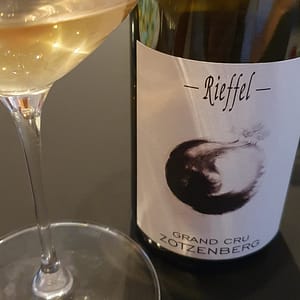 Zotzenberg Riesling Grand Cru 2019 (L. & A. Rieffel)
Zotzenberg sits in a basin on the south side of the Mittelbergheim hillside which reaches 320 meters. It's facing east and south, and has quite a lot of sunshine. It covers 36 hectares, is composed of marl and limestone. The cru was formerly known for its sylvaner, but now gewurztraminer, riesling and pinot gris all perform well here, with wines of both freshness and body.
The Rieffel property covers a total of 9.5 hectares and is currently run by Lucas Rieffel, third generation of winegrowers, who took over from his father André in 1996. They are based in Mittelbergheim, central Alsace, but have also vineyards in the north.
Tasting note: Light golden colour. Rich and open aroma of yellow apples, flowers, a peppery note. Good volume and structure, a touch menthol, long.
Brand Riesling Grand Cru 2021 (Zind Humbrecht)
Brand is located in Turckheim, where Zind Humbrecht has their headquarters. The soil is granite and the exposure is south, southeast. The altitude is up to 380 meters, and it totals 57 hectares. Both riesling (41%) and other grapes are grown here. A structured palate and a "willowy freshness" (Vins d'Alsace) resulting in a mineral sparkle and a saline sensation is typical for this cru.
The domaine was created in 1959. It's today run by Olivier and Margaret Humbrecht. They have 42 hectares and are co-owners of six grand crus, among them 2,4 hectares in Brand. They use biodynamic methods.
Tasting note: Light yellow. Intense aroma of flowers, citrus, aromatic herbs. Great concentration and minerality, steely acidity, dry, long. This wine is young at the moment and has a long life ahead. (Read about another vintage of the same wine here.)
Eichberg Riesling Grand Cru 2017 (P.-H. Ginglinger)
Bordering the edges of the municipality of Eguisheim, the locality of Eichberg Grand Cru faces the south-east at an altitude between 220 and 340m. Here is a particularly dry and warm microclimate, as the amount of rain registered is currently the lowest in the Colmar area. The terroir of this locality is essentially composed of limestone conglomerate and marl, with clayey, stone-rich soil. The 57.62 hectares grow various varieties, noted for opulence, fruitiness, but also finesse.
The head office of the Ginglinger family is in Eguisheim, in a house dating from 1684. Pierre-Henri who lends name to the company, took over in 1976. Today it's run by his son Mathieu, 12th generation, who manages 15 hectares his wife Stéphanie. -You grow good grapes by respecting the earth, he says. Thus, organic farming has been practised for a very long time.
Tasting note: Light golden. Aroma of mature citrus, pear, flowers. Generous and fruity, with good acidity, elegant.
Schlossberg Riesling Grand Cru 2017 (Dom. Bott-Geyl)
Schlossberg is a 80 hectare cru on sandy granite with south exposure in Kientzheim. The altitude is all the way from 230 to 400 metres. Riesling is the indisputable master here with 71% and the best wines by far. With a long growing season, this terroir has ideal ripening conditions for the grape. The wines are often light and floral, and with freshness from the granite.
Jean-Christophe Bott has been responsible for Domaine Bott-Geyl since 1993 and converted to biodynamics in 2002. In the vineyards he believes in low yields and in the cellars he employs natural and minimalist methods. The domaine owns vineyards in 6 grands crus.
Tasting note: Light golden. Intense aroma of mature apple and flowers, with a touch of smoke. Concentrated, lovely structured, fresh, with a stony minerality, long. Great richness and delicacy at the same time.
Kaefferkopf Grand Cru 2015 (Christian Binner)
Kaefferkopf is the latest addition to the grand crus, from 2007. It is located in Ammerscwihr, just outside Colmar to the northwest. It's a granite-limestone vineyard with east exposure that is distinguished for various grape varieties. This wine is based on 40% gewürztraminer, the rest riesling and pinot gris. Therefore I placed it outside all flights at the end of the tasting.
Christian Binner comes from a family of vintners that has been producing wine in Ammerschwihr since 1770. He is also noted for helping small farmers in the area with facilities and bottling their wine using his Les Vins Pirouettes label.
Tasting note: Light amber, slightly turbid. Aroma of yellow tomatoes, orange peel, dried fruits and some spice. Great structure and complexity, long.
Leave a Comment