Marc Kreydenweiss is a favourite in Alsace, and highlighted a couple of years ago (see here). The winery is based in Andlau, central-north of the Alsace vineyard. However, in 1999 the family purchased an estate in Manduel, in the Rhône Valley, west of Châteauneuf and southwest of Nîmes.
This one was one of seven wines from a private party (hosted by me). The name means golden angel, but as an orange it's clearly a wordplay. It's made from five varieties; the aromatic Alsacian grapes muscat and gewürztraminer, and also riesling, as well as the more pigmented grape pinot gris. The Rhône tradition is here represented by grenache blanc (in some vintages also viognier, and also vermentino). It saw10 days of skin-maceration.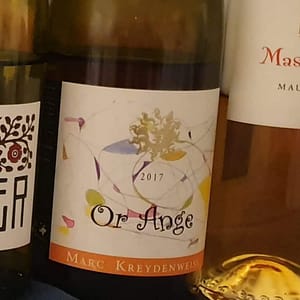 Or Ange 2017 (M. Kreydenweiss)
Light orange-amber colour. Floral, with apricot, citrus (mandarin), cinnamon, and a slight hint of raisins. Full on the palate, a touch of tannins, integrated acidity, long with fruit all the way.
Price: Medium
Food: Fried fish, smoked meat, lightly spiced food, and a varied cheese plate