I've known Riffel for many years, and tasted some of their wines in several vintages, such as this one, their basic dry Riesling. But this time I encountered it by chance, as it was a house wine at a modest restaurant in Stavanger, Norway.
Carolin and Erik Riffel are found in the municipality of Büdesheim in the Bingen area, Rheinhessen. Bingen was the birthplace of the famous Hildegard, composer and more. But nowadays it swings more than ever here.
The vineyards cover 16 hectares, most of it riesling, together with other grapes. Their work with silvaner is very promising. They have for a long time had an organic approach, and in 2012 they switched to biodynamic farming. Obviously they use spontaneous fermentations, and there are few additions. Riffel produces around 100,000 bottles annually. Aside from the still wines bottle-fermented sekt, pét nat and non-alcoholic grape juice are made.
This is a fresh wine made in steel at controlled temperatures, lightly filtered, and clocks in at 5 grams residual sugar and around 8g acidity. The alcohol is 12% vol.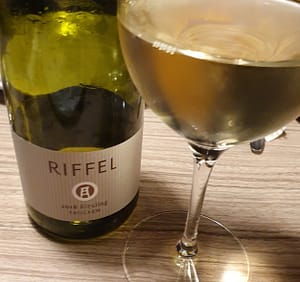 Riesling Trocken 2018 (Weingut Riffel)
Light colour, greenish tinge, just a little pétillant. Fresh fruit, citrus (lemon, lime), green apples, a touch of gooseberry. Light, with a fresh acidity, and a pleasure to drink.
Price: Low
Food: Fish, shellfish, salads, light meat, not too heavy or spicy Asian…