Muller-Koeberle of Alsace was one of the big revelations at Vinmonopolet's tasting of new listings and vintages last week. Martin Paulsen of importer Autentico Wines presented two wines from this producer. Here we chose the Symbiose as the Wine of the Week, but the other, Schlossreben, a blend of six grapes, was equally good.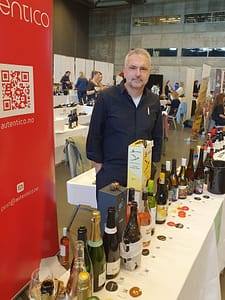 David and Marianne Koeberle took over the family's 27 hectares of vineyards in the village of Saint Hippolyte in 2005. They converted early on to organic and biodynamic practises. The latest years they have taken further measures too meet the strict demands of the Vin Méthode Nature (see article about certification of natural wines here).
Symbiose comes from a single vineyard co-planted on granite soil, surrounded by trees and forests and vegetation. Saint-Hippolyte is located at the foot of Haut Koenigsbourg and is a typical wine-producing village, particularly famous for Rouge de Saint Hippolyte (pinot noir) with its own appellation. The best vineyards are located at 250-400m above sea level on the slopes towards the Vosges in the west.
Here one hectare of the various grapes is co-planted. The grapes were hand-harvested and co-fermented with 6 days of skin-contact before pressing, matured for 6 months on lees before bottling without filtration.
The grape varieties are pinot gris 20%, riesling 20%, pinot blanc 15%, auxerrois 15%, muscat frontignan 15%, gewürztraminer 15%.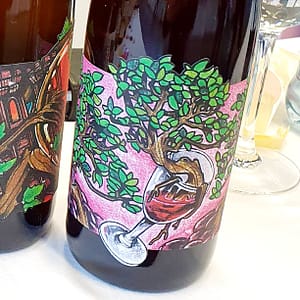 Symbiose 2021 (Muller-Koeberle)
Light amber with a red hue, somewhat cloudy. Aroma of reaches, flowers, citrus and aromatic herbs. Good volume and concentration, long.
Price: Medium