4 Monos are four friends who all had fallen in love with the garnachas and the freshness of the Sierra de Gredos mountain range. Javier García and Laura Robles are a married couple, and their friends David Velasco and David Moreno are the two other monkeys.
We are in the town and the Madrid subzone of San Martín de Valdeiglesias. Here is a high proportion of clay in the soils. The wine is made with garnacha from three different plots at 750 to 840 meters of altitude. In short, it's made with whole bunches, fermentation with native yeasts and maturation in barrels for 15 months.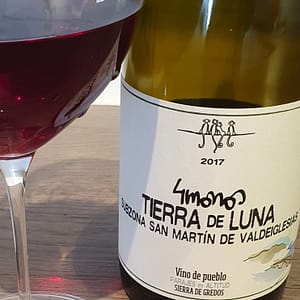 Tierra de Luna 2017 (4 Monos)
Ruby red. Aroma of mature red fruits (raspberry), herbs (rosemary), earthy notes and a tiny sweet sensation (caramel). Medium-bodied with fine tannins, a taste of ripe cherries, good acidity.
Price: Medium