I was recently visiting Grimstad, a beautiful small town on the Norwegian southern coastline, where the houses are white, small private boats are moored and the seagulls are part of the scenery. I have a special relationship with the town, because I was born there, and my family has since spent many summers there.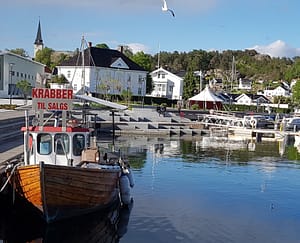 Fresh crabs on offer in the town's inner harbour
The town could have boasted of its seafaring culture. My late father left from there to work on a ship at the age of 14. And that night I borrowed the house of a friend, the daughter of my father's captain at that time. But Grimstad is not of that sort, boasting is not part of its personality. It's just lying there, a southern Norwegian idyll bathed in the summer sun.
These days the small town is home to the restaurant with the most amazing natural wine list on the whole long coastal strip. Founded in 2001 the restaurant has since enjoyed a reputation among the citizens, for its food, its atmosphere, but also as a concert arranger. However the upgrade to the natural wine haven that we know today started after a bankruptcy in 2010. Kjetil Jørgensen, one of the original founders, has a good relation to natural wine importer Non Dos, through his friend Jørgen Ljøstad, also from Grimstad. Sometimes a strong tie to one importer can feel somewhat awkward, or difficult. But here it's more logic, and has probably helped along the way to success. Having said that, the restaurant also works with other importers. These days they also have their own micro-brewery, led by Mathias S. Skjong.
The food is based on local ingredients. The burgers are made from Hereford cattle grassing only a stone's throw away, and there is of course delicious fish and shellfish right out of the sea. Pizza or vegetarian options too.
Apotekergaarden translates as the Pharmacist's Shop, and refers to playwright and poet Henrik Ibsen, who was a pharmacist apprentice in Grimstad before he became famous, and this particular place also formerly housed one of the town's pharmacies.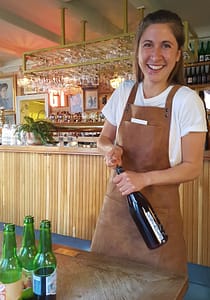 Ida Konradsen pulling up a Contadino, her own soft drinks at the table
Ida Konradsen is sommelier and restaurant manager, and strongly contributed to a great evening. She told us with great enthusiasm about her experiences from working at Sebastien Riffault's estate in the Loire. She is also involved in a new project creating soft drinks, generally popular in Norway (as everywhere I suppose) with children and non-wine addicts. All have the taste of the basic ingredients intact and come with a lot less sugar than usual for this type of drink. In between our first and second wine she offered us a tasting of three products that are sold locally, a lemon and ginger drink (based on Sicilian lemons), one from orange (and a touch of lemon) – and lastly an interesting take on a soft drink for the Christmas season ("julebrus" in Norwegian), based on biodynamically farmed grape juice of the variety zweigelt from Austrian wine producer Meinklang, well-known for readers of this blog – with some star anise, juniper and cinnamon, and without addition of sugar.
Meinklang is also responsible for some of their house labels, Skolegada 3 (the restaurant's adress), otherwise known by other names in the market.
But while there are not more than 12-15 wines in their by-the-glass selection, Ida gladly opened three more to us, as she was going to host a special party the next day and could use the rest there. And these were fabulous wines from three natural wine legends.
Robinot's Fêtembulles, with sourdough bread, olive and truffle oil, and olives
Fêtembulles 2017 (J.-P. Robinot), Loire, France
100% chenin blanc, biodynamically farmed, bottled without added sulphites and unfiltered.
Light yellow, small integrated bubbles. Smells of mature apples, citrus (orange), a bit waxy. Tastes of apples, is creamy with a crisp acidity, and a stony minerality in the finish.
Contadino 2016 (F. Cornelissen), Etna, Sicilia
This is a field blend dominated by some 90% nerello mascalese, biodynamically farmed. No sulphites added, unfiltered.
It's light cherry red. Aroma of red berries (cranberry), hint of herbs (basil), some spice. The mouth is dominated by red fruit, but with and underlying carbon or smoke taste (from the Etna volcano maybe), and with a solid tannic grip.
Teroldego 2015 (E. Foradori), Vigneti delle Dolomiti, Italy
Another well-known producer for readers of this blog. This wine is from the teroldego grape grown in Trentino, near the Dolomites. It was fermented in cement and aged in cement and old oak.
Dark cherry red. Packed with red berries (cherry), plums, dark fruits (blackberry), with some balsamic notes (menthol). Cool, clean fruit in the mouth, very lively and fruity.
Typical paintings collected in one of the rooms
And on the veranda while the sun goes down we finish the evening with a craft beer from the acclaimed local brewery Nøgne Ø, that takes its name from Ibsen's poem "Terje Vigen". And to drink one of their beers in this moment seems more right than ever before.