Château Peybonhomme-les-Tours is found in the village Cars, just outside Blaye. Here they have 64 hectares in the hills by the Gironde. The soil is predominantly chalky clay, and the vineyards themselves have a sustainable ecosystem, with grass between the rows and nearness to woods and water.
Catherine and Jean-Luc Bossuet Hubert run the estate with their children Guillame and Rachel, and they also make wine at Ch. la Grolet in Côtes du Bourg. Both places they apply biodynamic techniques.
This wine is made up of 60% merlot, 10% cabernet sauvignon, 30% malbec – and is matured in amphorae for 12 months. They use double Guyot pruning, and soil tillage in spring. There has also been used small quantities of Bordeaux mixture with herbal teas, such as horsetail or nettle. The use of sulphur is limited (50mg/l). No fining, but two careful rackings.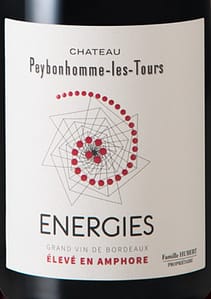 Energies 2016 (Ch. Peybonhomme-les-Tours)
Dark cherry colour. Aroma of black fruits (blackberry and blueberry), plums, herbs. Quite full, but lots of energy, with fine-grained tannins in the mouth, a mineral touch and a fine acidity. A very fine bordeaux, completely without oakiness, and with elegance rather than power.
Price: Medium
Food: Red meat, light meat, poultry, tasty dishes with mushroom, hard cheeses
---
Leave a Comment