Luca Roagna is a well-known producer of delicious barberas and stylish barolos. But there is much more. This rosé is a collaboration with local farmers, where Roagna has been part of the whole process and did the final selection.
We are in northwestern Piemonte in the cool area Bricherasio. This region is capable of making fresh wines with excellent fruit. There is barbera, nebbiolo, dolcetto, freisa and several lesser known local varieties.
Everything is natural, on sugar added, low sulphur, and the wine is naturally fined and filtered.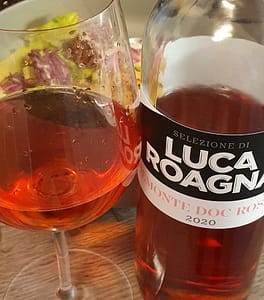 Selezione di Luca Roagna Piemonte Rosato 2020 (Vignaioli Piemontesi)
Light red, touch of salmon colour. Lots of fresh berries in the aroma (raspberry, wild strawberry) and flowers. Some structure, concentrated fruit on the palate, fresh acidity, long.
Price: Low
Food: Light meat, antipasti, fish, shellfish, pasta…
Leave a Comment