Here is a wine from a tasting in my local wine club, that showcased grapes from southern Italy. (See an entry from Campania here.)
Antonino Caravaglio is located at the foot of the Monte dei Porri volcano on the island of Salina, off the north coast of Sicily. Here the vineyards stretch from 10 to 650 meters above sea level, mainly malvasia. In total the firm comprises about 20 hectares, divided into many parcels, some of which are on the other islands of the Aeolian archipelago.
For centuries, the economically most important products here were wine and capers. And Nino makes not only wine, but also what literature claims to be the world's best capers.
This wine is made from malvasia di lipari grapes, relatively young vines (10-20 years) organically grown on volcanic sand and rock in a vineyard called Tricoli, that means triangle in Aeolian dialect. The vineyard is located on the northern side of the island of Salina, facing north-west and overlooking the Mediterranean Sea. The grapes were hand-harvested and sorted in the fields, pressed in whole bunches and fermented with indigenous yeasts in steel, then aged in tanks on lees for three months. Low sulphur.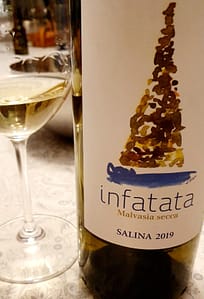 Infatata 2019 (Az. Agr. Caravaglio)
Light straw yellow. Aromas of litchis and jasmine over a layer of herbs (thyme). Glyceric in the mouth, integrated acidity, a touch of grapefruit and a saline finish. Clean and stylish.
Price: Medium
Leave a Comment