The Thymiopoulos family has a long history in agriculture and grape-growing in Trilofos, under the Vermio mountain south of Thessaloniki. Apostolos Thymiopoulos was however the first to vinify the family vineyards, and he produced his first wine in 2005.
Thymiopoulos practises organic viticulture and believes in minimum intervention during the whole process. Various biodynamic practices are also used, thus being able to preserve biodiversity. The wild flowers stimulates both over- and underground fauna, thus strenghtening the soils and with it, the vines.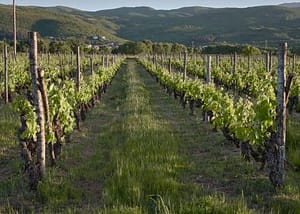 He concentrates exclusively on xinomavro, the emblematic variety of the Naoussa region. From this variety he makes at the moment ten different wines, from sparkling via rosé to reds. I have tasted five, and can recommend all of them. They are excellent value, such as the Young Vines 2019. Xinomavro gives naturally acid and tannic wines, well-suited for ageing. And Apostolos would also say it gives an ethereal quality.
Our selected wine, the Xinomavro Nature, has no additions of sulphur. It comes from a single vineyard planted 53 years ago, 200 meters high on a slope, at the edge of the village. The soil here is pure limestone. The climate is tempered by the winds from the Mediterranean and downhill from the mountain. So despite the low altitude the temperatures are also relatevely low. The 2019 vintage had 50% destemmed grapes, fermented with indigenous yeasts and was macerated for 30 days. It was matured for 6 months in 500-litre French oak barrels of second use.
Xinomavro Nature 2019 (Thymiopoulos)
Ruby red. At first quite discrete aroma of red berries and a touch of spices (cardemom, pepper), sightly warm. Much more open after three hours in the glass, and more aromatic herbs like thyme appear. Evident tannins, good acidity and long, mineral aftertaste.
Price: Low/Medium
Leave a Comment