Maria and Sepp Muster of Südsteiermark I met a few years ago at a wine fair in London. I was hugely impressed by their range, and the orange wines I regard as some of the best there is. Last Saturday I visited a new wine bar in the unlikely place of my hometown (sorry, Sandnes!). And this masterpiece of a zweigelt was served blind by Pål, managing director of Tempo vinbar. The bar takes its name from the historic bicycles that were once made right in the same quarter.
Maria and Sepp Muster make vital and beautiful wines in Gamlitz of Südsteiermark, Austria. The soil is composed of stony clay and silt over calcareous marl subsoil.
The grapes for this wine were harvested by hand, de-stemmed and gently pressed. They spontaneously ferment in 2,400-litre wooden barrels. The wine is then stored for approx. 2 years in old wooden barrels. Unfiltered. Nothing added.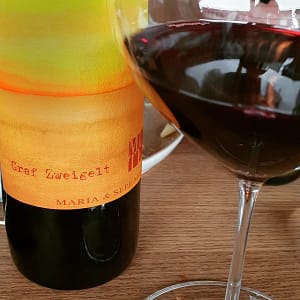 Graf Zweigelt 2019 (WeinI. Maria & Sepp Muster)
Cherry red. Aroma of cool red and black fruits (raspberry, blackberry), cranberry, fresh herbs and some earth. Medium-bodied, fine-grained tannins, a lovely integrated acidity, and a long finish.
Price: Medium
Leave a Comment