Sven Enderle and Florian Moll founded their winery in 2007 in Münchweier, Baden, close to the border to Alsace. They have now some 2 hectares of vineyards, mostly pinot noir, pinot gris and müller-thurgau.
This one is from pinot blanc, or weißburgunder in local nomenclature. The peak of their three level hierarchy are the single-site wines Muschelkalk, Buntsandstein and the Buntsandstein single location Ida.
The grapes are organically grown on shell limestone soils (Muschelkalk). Unfined and unfiltered. Very low SO2. It's from Baden, but declassified by purpose to Deutsche Wein.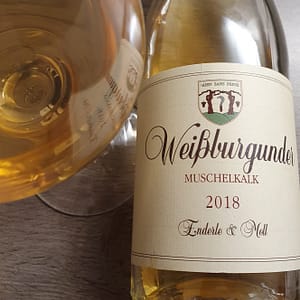 Weißburgunder Muschelkalk 2018 (Enderle & Moll)
The colour is somewhat between yellow and pinkish orange. Slightly reductive at first, some chalkiness, giving way to a more open aroma with yellow fruits and a white pepper/ ginger character. Careful skin-contact, some spice, a lively acidity, also with a hint of bitter almond. Shows some development too.
Price: Medium
Food: Light meat, tasty fish, salads, root vegetables, try with several Asian…
Leave a Comment