Here is a wine that is almost free of charge…
I visited the Candela family once in the 90s. Today it's the fourth generation, brothers Antonio and Alfredo, that is leading the growing of the grapes and the making of the wine here. They also count on a restaurant in the building where you can sit and watch the landscape. And "here" is Yecla, a one-municipality D.O. in Murcia, between the Spanish meseta and the Costa Blanca. Bodegas Barahonda owns and controls vineyards both in the Campo Arriba, where the climate is continental, with high temperatures in summer and a freezingly cold winter, and nearer to the more temperate coast in Campo Abajo.
They make many different wines, but Yecla is mainly monastrell country, and many of the most interesting wines are made by the Mediterranean grape, the same as came to be called mourvèdre when it travelled over the French border. The Carro comes in two versions, most often it's a blend, but this version is a 100% monastrell made from old vines (from both subregions, between 400 and 800 meters), with natural yeasts and spontaneous fermentation. Never seen a barrel in its entire life.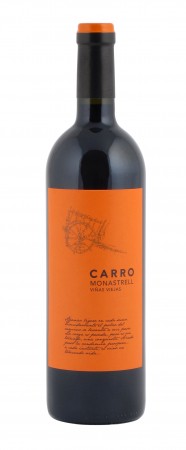 Carro Monastrell Viñas Viejas 2013 (Bodegas Barahonda)
Deep red with a blue hue. It's a light wine, but with quite dark fruit, blackberry, and a touch of the typical murciano aromatic herbs (rosmary, thyme). Young, luscious taste, quite full and just enough refreshing acidity.
Price: Low
Food: Light meat, salads, murcian paella…