Domaine Georg Breuer in Rheingau, Germany was officially founded in 1980, but it's obviously much older. Today it accounts for some 40 hectares, some of them very prestigious, like Rüdesheimer Berg Schlossberg and Berg Roseneck.
Berhard Breuer, a well-known promoter of dry riesling, left this world much too early in 2004. And then 19 year old Theresa Breuer, 4th generation, was suddenly in charge of it all. Now oenology educated, she has for years handled the family plantings of riesling and red with great virtuosity.
Here is a link to another wine of the domaine, and the article also contain a link to Theresa's visit to a wine fair in Stavanger, Norway.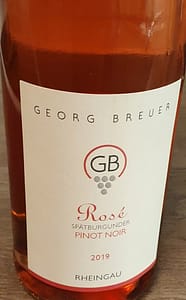 Spätburgunder Pinot Noir Rosé 2019 (G. Breuer)
Lovely pink-orange colour. Floral aroma with cranberries and cherry, some lemon/lime. Fresh citric acidity, yet a smooth feeling that makes it excellent drinking, with and without food. Finishes dry. A very delicate wine.
Price: Low