I am in Murcia, Spain for Christmas. What could be more appropriate than presenting a regional speciality, sweet monastrell wine. Bodegas Olivares has long since been my favourite among the producers of this type. Nowadays there are more serious contenders, but Olivares still stands tall.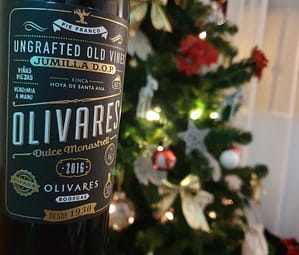 Hoya de Santa Ana is a sub-zone of Jumilla, situated in the north-western corner. It has the highest elevation in the DO. Thus the warm days are complemented with temperatures considerably cooler than the rest of the wine area.
For this wine they use the oldest vines of the estate, ungrafted ('pie franco' in Spanish). They let the grapes hang on the vine until late autumn. Once the grapes begin to turn into raisins, they reach a great richness, but given the cool nights a certain freshness is still achieved. Around 5-6 years per decade they consider the conditions to be good enough to release this dessert wine.
Partial fermentation is employed, and more than 30 days of maceration with skins. Wood ageing? Zero.
The resulting alcohol is16%. It's not overtly sweet, at a sugar content 200 gr/l. For those interested in volatile acidity it's 0,20 gr/l.
Olivares Monastrell Dulce 2016 (Bod. Olivares)
Dark red, brownish hint. Complex aroma of blackberry, plums, and dried fruits (dates, figs), a bit raisiny. Concentrated taste with good acidity, some structure and great persistence. Sweet, but not overdone, and relatively speaking, also fresh.
Price: Medium
Food: Many desserts, especially when made with chocolate, with blue and aged cheeses. We had it with the local turrón, a sweet contain almonds and honey.