The Asinoi "we are donkeys" wine is maybe easy to forget. But it's rather remarkable that the Carussin family manages to keep the quality up and the price down. The 2019 has an acidity as splendid as ever before. I have given some background here, when talking about a wine two years older.
Some keywords: Biodynamic farming, hand-picked grapes, spontaneous fermentation, low sulphur and no oak.
And, as producer Bruna Ferro says to Wine Chords: Asinoi is a simple yet complex wine – just like the character of the animal donkey.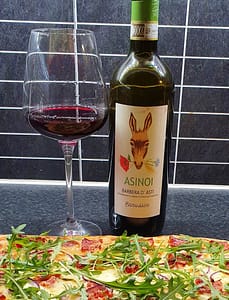 Asinoi Barbera d'Asti 2019 (Carussin-Bruna Ferro)
Ruby red. Aroma of red berries (cherries, raspberries), herbs and a trace of almond. Fresh, luscious, low tannin, and a wonderful acidity that keeps on going from start to finish.
Price: Low
Food: Pasta, pizza, light meat, white fish, vegetables, and a variety of (mostly hard) cheeses