Pannobile is the name of an association of wine growers in Burgenland, Austria. Pannonia was the region's name during Roman times (thus underscoring the importance of origin), and nobile means noble, rich or generous.
In their own words, they were "a group of winemaking friends and colleagues meeting regularly in Gols, a wine village on the northeastern shore of Neusiedler See. Their aim was neither to be 'modern' nor 'international', but to be committed to the soils, the character, and the climate of their region so that premium wines made from local grape varieties could be created".
Hans Nittnaus was the one that suggested the name. Here on this blog we have said hello to Gernot Heinrich, also one of the founders from the 1980's, and Gerhard Pittnauer and Claus Preisinger, who joined later.
Also among the founders was Hans Gsellmann, whose son Andreas started to work in the winery in 2005, and has been in charge since 2919. Andreas says that his goal is "to harmonize traditional winemaking with the biodynamic way of working and living". They cultivate 19 hectares of vineyards.
Gsellmann has a wine that carries the name Pannobile on the label. We will come back to this. Today we present his Blaufränkisch. The grape variety here is obviously blaufränkisch, that grows on quartz and gravel. The fermentation was spontaneous, and the maceration lasted two weeks. The wine was raised three months in used 500 liter oak barrels.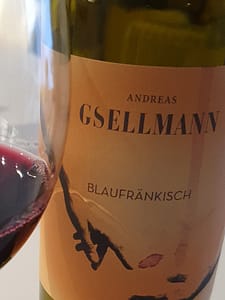 Blaufränkisch 2021 (A. Gsellmann)
Dark cherry. Dark fruits (blueberry, blackberry, dark cherry), a lactic note, herbs, and also a touch of dried fruits. Juicy in the mouth with some structure, some spice and good acidity.
Price: Medium