Michel Guignier is a Beaujolais producer with whom I haven't been familiar very long. He practices organic and biodynamic viticulture, makes his wines without any additions like industrial yeast, enzymes, acid alterations, there's no filtering, no fining, no added sulphites… On the other hand he believes in biodiversity, healthy grapes and soil quality.
His farm is located in the forest outside the Vauxrenard village (northwest of Fleurie and Chiroubles), his vineyards are also in that area, and he could have labelled the wines with the name of the village if he wanted. Here at 500 metres above sea level there is a slower maturation than in most Beaujolais villages.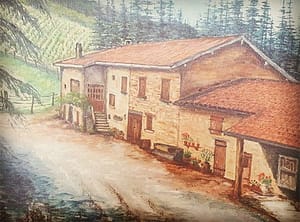 Drawing of the winery (Credit: M. Guignier)
The soils are granite with sandstone, and the vines range from 30 to 80 year old. They are found mostly around Vauxrenard, and some in Fleurie and Moulin à Vent. La Bonne Pioche is probably his most known wine. It originates in a 7 hectare vineyard near Vauxrenard, planted with more than 45 year old vines. Its exposure is south-east and the soil is a kind of loose granite. 
Guignier uses concrete tanks with epoxy lining for fermentation, that can be called semi-carbonic. In the winery he has a great variety of barrels, steel and tanks to play with. New oak is never used though.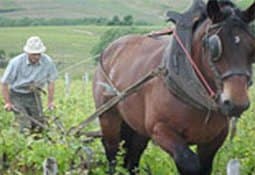 The horse Bistere contributes to a healthy soil (Credit: M. Guignier)
La Bonne Pioche 2016 (M. Guignier)
Cherry red, slightly turbid. Lovely aromas of flowers and red berries (raspberry, redcurrant), and some barnyard notes underneath. Fresh acidity, meaty on the palate, with smooth tannins and a long and dry aftertaste.

Price: Medium

Food: Salads, light meat like bird, cold ham and meat, try with sushi…