This summer I attended a tasting in Murcia organized by the Spanish magazine Verema. You can read more here.
From Yecla, a one-municipality-denomination to the northeast of Jumilla I tasted the wines of its leading winery, Bodegas Castaño. Among these was a favourite for many years, the Hécula, now Hécula Organic in 2019 vintage. It comes from a 750 meter altitude north-south vineyard on limestone, with in average 50 years old vines. Aged 6 months in French (80%) and American oak, and malolactic took place in tanks.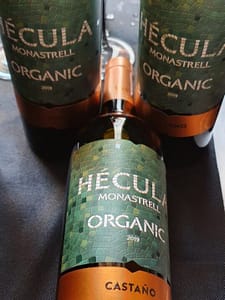 Hécula Organic 2019 (Bodegas Castaño)
Cherry-red. On the nose it shows ripe red berries (morello), aromatic herbs and a hint of coffee. Full in the mouth with mature tannins and a relatively good acidity.
Price: Low
Food: All kinds of meat, stews, salads with meat (such as Caesar), murcian paella…