We have seen several natural wines now that really can age. (Here is a good one from Granada, and here an even older wine from Dão, Portugal.)
Let me tell you about one from Ribera del Duero, Castilla y León (Spain). Goyo García Viadero, the man behind it, comes from a respected family in wine. I got in touch with him through Bodegas Valduero of Gumiel del Mercado, where his sister Yolanda is winemaker.
Goyo started to produce his own naturally made wines in 2003. He has three small plots near Roa, with different soil types and at various altitudes. And they are the "toda la vida" kind of vineyards, where white varieties grow together with reds. The idea is to express the characteristics of the vineyard, rather than each grape variety.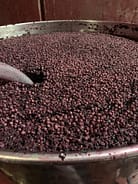 (Credit: G. García)
All wines are de-stemmed, fermented exclusively with wild yeast, and nothing is added during elevage, neither any SO2.  The wines are raised in old French barrels in a very old underground cellar in Gumiel.
The Viñas de Arcilla is Goyo's only mono-varietal cuvée, 100% tinto fino (tempranillo).  It comes from a very old vineyard, clay-dominated (as the name suggests) with some lime-stone, at more than 800 meters altitude. It's produced with a similar vinification and elevage as outlined above.


Finca Viñas de Arcilla 2010 (Goyo García Viadero/ Explotaciones Valduero)
Deep cherry red, signs of development. Cherry, mature fruits, a bit earthy and peaty. Still some fine-grained tannins, lovely acidity and quite persistent. Not heavy at all, and with none of the oakiness often associated with this wine region.
At a younger stage it is perhaps the most powerful of his wines, with a solid structure, but it's always juicy and surprisingly open too. Now I would say it's near its peak.
Price: Medium
Food: The suckling pigs or lambs of the region, any kind of roasts and red meat, and don't forget the wild mushrooms