No, it's not an attempt of making a cheap musical joke, it's the real name of the wine. When the wine is marching in, it's with the grape saint laurent.
Saint Laurent is ​​an aromatic, dark-skinned grape variety from the Pinot Noir family. St Laurent is perfect for sparkling wines as the variety ripens early and the skin is relatively thin. By the way, portrayed on the label is Swedish jazz saxophonist Mats Gustafsson, in a drawing by Olaf Osten.
Since they took over Gernot's family's small-scale wine production in 1985, the couple Gernot and Heike Heinrich have focused on the great potential of the local grapes blaufränkisch, zweigelt and st. laurent. The family currently grows their grapes on 100ha in Gols, Burgenland, using biodynamic principles.
The grapes come from a single location on the eastern Leithaberg, in mica-mixed slate soil. The grapes are pressed in whole bunches, and the must is then cooled for rapid sedimentation, before fermentation begins with natural yeast in steel tanks. The fermenting must is then bottled before the fermentation is completely finished, to get its mousse in the bottle.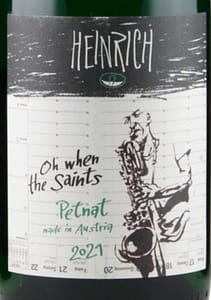 Oh When the Saints 2021 (Heinrich)
Light straw, abundant mousse. Fruity aroma of yellow apples, citrus, with white flowers and quince. Creamy texture, adequate acidity, salty aftertaste.
Price: Medium
Food: Seafood, white fish, light meat, aperitif