Alexander Pflüger is third-generation owner and winemaker of Weingut Pflüger in the Pfalz. The name Pflüger means he who ploughs, and implies that the family has a long tradition as farmers. They were pioneers in organic farming in Germany, and the vineyards were certified in 1989. In the early 2000s, they switched to biodynamic. Today, Weingut Pflüger is the producer in Germany with the largest Demeter-certified vineyard.
It's an all pinot, spontaneously fermented and raised in steel.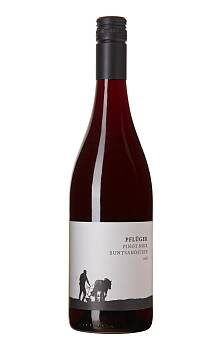 Buntsandstein Pinot Noir 2020 (Pflüger)
Cherry red with blueish hint. Aroma of red berries (raspberry), plums, anise, an earthy touch. Juicy, fresh, medium-bodied, with fresh acidity.
Price: Low