This week's selected wine is from nobody else than natural wine guru Jean-Pierre Robinot.
As the story goes, Robinot fell in love with wine at a young age, moved to Paris, met some of the pioneers of natural wine and opened L'Ange Vin, one of the first bars dedicated to that kind of drinks.
Soon he decided to make natural wines himself, and moved back to Chahaignes, where he grew up, in the north of Loire.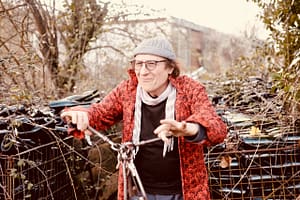 The rest is history, as they say. He offers one wine better than the other; easy-to-drink and serious at the same time, they keep for weeks after opening, they express their origins magnificently, and they are highly original.
Jean-Pierre owns around 8 hectares of vines in the two appellations Jasnières and the Coteaux du Loir, soils red clay, limestone and silex. And the fermentations, they can last for months, years, in the ancient underground caves.