Tiago Sampaio is a driving force on the modern wine scene of the Douro. The Folias de Baco project was started in 2007, and today he is recognized as an innovative winemaker deep rooted in the traditions of the area.
The name Curtido implies that this is an orange wine, in Portugal usually called curtimenta. It's made from moscatel galego planted on a blend of schist and granite soils. It was harvested by hand in early September with extensive vineyard sorting and two weeks maceration time. Fermentation in stainless steel using indigenous yeasts. Not fined or filtered.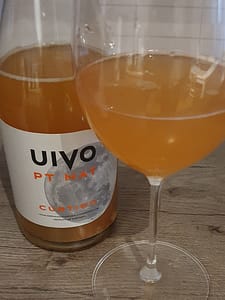 Uivo Pt Nat Curtido 2021 (Folias de Baco)
Yellow-orange, cloudy. Aromatic, flowery with apricot and citrus peel. Dry mouth-feel, only slightly fizzy, lovely citrussy acidity, good concentration and an intense aftertaste.
Price: Medium