Domaine du Bel Air is a producer of fine, age-worthy wines from cabernet franc. Jour de Soif (Day of Thirst) is their entry-level wine, made from younger vines of 20 years.
The Gauthier family is found in Benais, in the Bourgueil appellation since 1600. Today Pierre Gauthier and his son Rodolphe run the estate. It covers more some 18 hectares. Pierre Gauthier begins his winemaking work with a real philosophy. In 2000, the farm converted into organic viticulture.
The wine is a 100% cabernet franc. Manual harvest. The grapes are destemmed and then sorted on the table before being put into vats. Maceration was gentle and lasted 8 days with pumping over and a temperature not exceeding 25% to preserve as much fruit as possible. Ageing was 6 months on fine lees.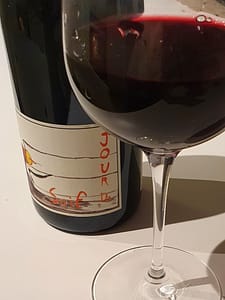 Jour de Soif 2020 (Dom. du Bel Air)
Purple colour. Aroma of dark and red fruits (blueberry, cranberry), flowers. Mouthfilling with smooth tannin, medium acidity and long fruity aftertaste. Quaffable.
Price: Low
Food: Thirstquenching, but can also be drunk with light meat, Caesar and other salads and charcuterie