Francesc Grimalt is leading figure in the restoration of the callet grape variety. In 2006 he teamed up with Sergi Caballero and founded the 4 Kilos winery. The name is an expression for 4 million pesetas, which was their initial investment to launch the company.
4 Kilos is based in Felanitx, in the inland of Mallorca. On this well-known holiday island the climate is mild Mediterranean, with dry and warm summers and very little rainfall. Francesc and Sergi practice an environmentally-friendly agriculture with a minimum of intervention.
The soils are clay loam containing ferric oxide. After the manual harvest with grapes selected in the vineyard, the juice was fermented in cubs (brick and concrete vats traditional in the area). Here the wine was aged for about 3 months. There was no added sulphites during the process.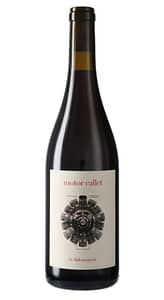 Motor Callet 2021 (4 Kilos)
Ruby red. Aroma of mature raspberries and orange, and a layer of herbs. Juicy in the mouth, expressive, round and at the same time a fresh drive, some coffee in the back palate.
Price: Medium
Leave a Comment