This year's RAW adventure had an unlikely start for me. It was down in Brighton, a beautiful seaside town that I take every opportunity to go back to. One of the reasons is the superb wine bar and restaurant Plateau. I can always discuss with the staff what to chose according to my taste and what I have tried before. This time they were excited about their Czech wines. I soon learned that other restaurants in the area had also listed several authentic, exciting Moravian wines. At the RAW wine fair there were also a couple of visiting producers.
Moravia is the most important wine region in the Czech Republic, and borders Slovakia and Northeastern Austria. The climate is continental, with cold winters, and the soils are dominated by loess and limestone.
Many of the varieties for white wines are German or Austrian. The reds are more varied, with an emphasis on French ones, brought to the region Roman Emperor Charles IV in the 14th Century.

(Credit: J. Osička)
My experience is that the quality is in general very good, and there are several interesting individual growers. There is even a movement of natural winemakers, called Autentisté, parallel to groups in other countries. The movement was started by winemaker and winebar owner Bogdan Trojak some ten years ago. Most of the wineries are in Moravia, the most traditional area for vinegrowing in the Czech Republic, with some in Bohemia, and also a few from Slovakia.
Here are some good, authentic wines from the country, all from the Moravia part.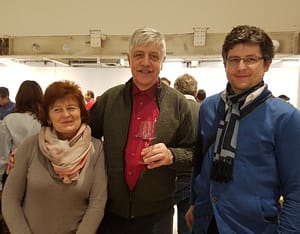 The Osička family at RAW, London
Jaroslav Osička has worked for a long time as an educator at the wine school in Valtice, the largest Moravian wine-growing village in Velké Bílovice. He works completely organically. He says he tries  not to make wine, only to assist in its making. He uses some batônage and enjoys the influence of oxygen along the way.
Chardonnay 2012 (J. Osička)
This wine comes from a small vineyard in the small town of Velké Bílovice, at 200-250 meters altitude, with southwestern and eastern orientation. The soil is loess and loam, and the vines are a little more than 20 years old.
Skin-contact was 6 months, then two more years in old barrels, until it was bottled without fining or filtration. Just 20 mg/L sulfur was added before bottling.
This wine is light golden in colour, somewhat cloudy. Aromas of citrus, orange peel, yellow apple, and some pineapple. Rich on the palate, oxidative tones shine through, but though the vintage was warm, the wine has a fresh, natural acidity.
Pinot Gris 2015 (J. Osička)
Here is a still, dry wine from clay and loess soil. Three days skin-contact in big oak vats, some whole bunch added, then almost a year on lees, before it's bottled unfiltered.
Light golden colour. Complex nose with pear, melon, lime and some sweet elements (like caramel). It plays with oxidation, especially in the aroma. Quite full in the mouth, but juicy too, and with an integrated acidity.
Tramín Červený 2016 (J. Osička)
Dry, still wine from clay and loess soil, like the previous wine.
Golden yellow, slightly turbid. Flowery, slightly sweet nose. Dry and structured, adecuate acidity.
Modry Portugal 2016 (J. Osička)
Blauer portugieser (here called modry portugal) grown on clay and loess. It's made in old wood, then goes into fiberglass tanks. It's bottled unfined and unfiltered.
Deep purple colour. Aroma of flowers, plums, cassis and some spice. Full and juicy in the mouth, fresh acidity. Lovely for glugging.
Dobrá Vinice has 15 ha vineyard in Znojmo in the Podyjí National Park. They use biodynamic preparations, and have a very natural approach, with spontaneous fermentation and only tiny amounts of sulphur added, if any. Extended grape maceration is carried out both in new oak barrels and qvevri from Georgia.
Velinské Zelené Qvevri Georgia 2012 had been through nine months of maceration on skins in qvevri from Georgia. As a result the colour was deep, orange. The aromas were dominated by orange peel and flowers, and in the mouth it had a big texture, with good fruit acidity.
Cuvée Kambrium 2014 is a lovely blend of veltlín (grüner veltliner), ryzlink (rhine riesling) and sauvignon blanc. It was fermented 10 weeks in new oak and acacia barrels, then aged for a further 14 months in the same barrels, and bottled unfined and unfiltered.
Lighter in colour, gooseberry dominating the aroma, some citrus, combined with white pepper. Quite light in the mouth, luscious, lovely wine for glugging.
Andrea and Petr Nejedlik
Two wines from the restaurant scene before we leave: The first one from the Krásna Horá winery was probably tasted at the Noble Rot, near London's Russell Square, but I'll find it out for you.
Sekt 2014 (Krásná Hora)
This winery dates back to the communist days of the early 1960's. Things have changed since then. Now they focus on high quality fruit and individual wines from small parcels, backed by biodynamic principles.
This all pinot noir sparkler is made with the traditional method, and had nine months on the lees. And since it is a 14 it has had some time in bottle after that. It has no dosage. It's clearly on the fruity side, with apples and citrus, and just a little bakery stuff. A rather simple, appealing wine with a refreshing acidity.
(Credit: Krásná Hora winery)
Back in Brighton's Plateau I was offered a digestive on the house:
Cerné starosvětské 2015 (Petr Koráb – živá hora)
živá hora means something like living hill, or "Live Hill", as dubbed by the winery. It consists of 4 hectares of vineyards, some more than 80 years old. This Moravian family of winemakers started their venture in 2006 and took on an organic approach, now supplemented with biodynamic philosophy. Vinification varies, but they try to do what they call authentic and in respect of tradition.
This one is made from frankovska (blaufränkish), a traditional grape from here and over in Austria.
Light cherry red. It smells a little like Christmas: Plums, cherry compote and a touch of marzipan. It's medium sweet, rounded, but with a fresh and vibrant finish.
These wines could maybe be regarded as a "new" world in the middle of the old, well worth czeching out… Sorry, I couldn't resist the pun. Anyway, if you get ike chance, please do check them out!
1 Comment