It was early morning in the west of Murcia, close to the border of Castilla-la Mancha and Andalucía. I didn't say the wild west of Murcia, but I can easily understand that once upon a time a lot of famous movies were shot in these rugged hills. At times I waited for Clint Eastwood to appear under the fading sun to the music of Ennio Morricone, just like he actually did many years ago.
This particular morning I entered the wine village Inazares (inhabited by some 30 souls) and went straigh into the saloon, or more correctly: El Nogal, the bar where we agreed to meet. Inazares is out of reach for any telephone, so after some waiting (and I could have waited longer, but I realized that I had come one day too early due to a counting error because 29th February didn't exist), it was in fact quite difficult to reach Pedro.
Inazares, one day later: Pedro Olivares points at me, not with his gun though, and explains about his project. This winery, once called Heredad Maybri, is now renamed Vinos Bio Pedro Olivares. And another idea came up to make the "Wild Series" from here, from Jaén (Andalucía) and from Utiel-Requena (València), an appropriately named series of  wines, no doubt.
His project was born out of a continous effort in search for new challenges. He invented the term "multi-dynamic" as a means to take the biodynamic culture further, or rather use it in an un-dogmatic fashion. -I like to be free, he says. This doesn't mean that he will not be respectful against the soil, where the wine is born. But he doesn't care too much for denominations and, as we shall see, he can also blend grapes from two or more places.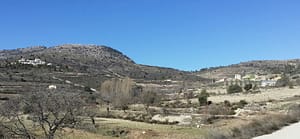 -When I came here in 1998 it was only mountain, Pedro says. -We analysed the area and compared the results to data about other wine regions of the world. This lead us to plant the varieties we have now, 27 in total, from the clones we considered best for this place.
Generally he looks for concentration and acidity in the wines. To achieve the first goal the yield can be surrealisticly low; for some wines it takes 3-4 bushes to make one bottle.
Another interesting feature is the way the vines are "trained". -I irrigate the bushes so that the roots from one meets the roots from the next, so as to make a stressful environment so that they fight each other and get stronger.
The highest vineyard in Europe (probably) is at 1.700 meters above sea level. Usually a newly planted vine bears fruit after 3 years, but here the growth so slow that it takes 5. This means that next year we can harvest the first grapes; gewürztraminer, riesling, petit manseng, for white wine, sparkling and ice wine.
We tasted a lot of samples during the walk up and down, beginning with a flor-aged "sherry", from this rugged high landscape. It was quite cold in the winery and difficult both to taste and write, but here are a few short notes:
Monastrell 2015 (from the Wild Series): A monastrell wine from Bullas, from vines of different heights, where acidity is obtained from the highest parts, and fruit and floral aromas from the ones further down. It's been 4 months in oak (3-4 years old, French-Hungarian-American – low toast, which is considered very important) and concrete tank. Here is a little SO2 (often nothing). Pedro says, I always write "Contains sulphites" even if it often can be less than 10 g/L (one is obliged to write it if it's more). The result is a dark, very floral and elegant wine.
Solana del Calor 2015: 85% monastrell from Bullas and 15% viognier (white, in other words) from 1.100 meters near the Inazares village. -This is "my Côte Rôtie", says Pedro. Dark, spicy, flowery, concentrated.
Merlot 2015 (Wild Series): This one is from Venta del Moro near Requena, where the soils are sandy. We could call this a Mediterranean merlot. The alcohol content is 16%, though when asked I guessed 13. It's not late harvest either; by end-September everything was in.
Dark, flowery, herbs, more evident tannins (but not green), mature, but good acidity and a chalky aftertaste.
Bobal 2014 (Wild Series): From Venta del Moro too, up to 105 years old pie franco (ungrafted) vines, only concrete tank. Dark colour, but more light fruites in aroma; cherry (morello), raspberry, quite evident tannins. Bobal 2016, tank-sample: Very fruity, cherries, raspberry.
BM Bobastrell 2016 (from the series Mediterranean Cuvée, that orignates from an idea to create a Mediterranean wine from an Utiel/Bullas blend). The bobal is obviously Venta del Moro (Utiel-Requena) and monastrell from Bullas in 50% each. Dark, dark fruits, cherry, mynth, spice, balsamic, long aftertaste.
enTreDicho 2016 (from a series by that name, this is an unfinished sample of a wine similar to the next, now in malolactic fermentation. Some animal notes, flowery, red fruits, a little carbonic.
enTreDicho 2015 (enTreDicho series) from Benatae in the Sierra de Segura (Jaén province): This is an interesting blend of monastrell, syrah, nebbiolo (for acidity), petit verdot, jaén negro and molinera. It's from clay soil, no sulphur added, and it's been 6 months on the lees. Dark, flowery, fruity in the mought, slightly carbonic.
Pedro tells that he can tell that it comes from clay soil, as the tannins from clay are felt in the cheeks, while tannins from sand shows more on the tongue. It's easy to agree, but it needs more investigation to tell if this can be said to be a general lesson.
Then an interesting coupling; two wines to end the tasting. A viognier/riesling blend, hand-harvested, from the high vineyard at 1.600m: Yellow colour (in barrel, still on the lees), some butter, flower (jasmine type), long, citric, orange, mandarine.
Sasa, a moscatel (and a tiny amount of malvasía) from "a little" lower: 10 meters above sea level, in València, near the city: Light in colour, flowery, mandarine, apricot, very long curve.
All wines are organic and vegan certified. -We also want animals so that we can make our own compost, he admits. However the vegan societies don't care about animals used this way, at least not to this day.
Leave a Comment