Tillingham is one of England's most innovative producers. Their minimal intervention approach to winemaking and often surprising presentation have given them a strong following amongst matural wine lovers. This wine was tasted in a local wine club quite recently.
I visited them outside Rye, Sussex in March this year, one of the last days before lockdown and my first quarantine. Ben Walgate and his companion Serena showed me around and explained about their organic farming, also with certain biodynamic practises, and we had a tasting of all their original wines (and ciders) in their own bar and restaurant. In a wet climate like England's, the threat of mildew is ever-present, so some copper and sulfur-based sprays are often used.
Aside of winegrowing, not only ciders, but also animals are part of the project, so is the bar and restaurant.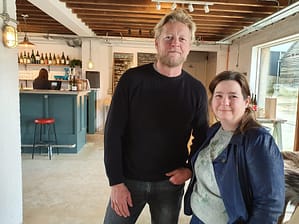 While some sparkling wine specialists have "owned" the headlines so far, I am very sure that the recognition of Tillingham will exceed far beyond the natural wine scene in the future. The grapes for this lovely low-alcohol when are müller-thurgau 35%, ortega 32%, bacchus 17%, chardonnay 12% and schönburger 4%, grown in chalky clay soil. There is no filtration nor fining.and minimal sulphur added before bottling.
Tillingham White 2018 (Tillingham)
Yellow. Aroma of yellow apples, apricot, some lime. Luscious, light and superbly drinkable.
Price: Medium
Read more about one of their rosés here. http://winechords.com/?s=Tillingham
We have also visited nearby Davenport winery. Take a look here. http://winechords.com/still-british/
Leave a Comment