These notes are from another wine talk in the Vinestor-series. (Read my first report here.) Now the time had come to La Stoppa and their Norwegian importer Vinum, represented by Runar Nikolaysen.
I suppose that for many people La Stoppa's Ageno was the first orange wine they ever tasted. This because of its presence in several markets.
Representing the winery was Nico Sciackitano, who was born in the USA, where he among other things worked as a sommelier in San Francisco. But he wanted to follow another path. Thus he came to Italy, worked for Arianna Occhipinti in Sicily, and through her met Elena of La Stoppa. He is export representative, but he also works in the vineyard and in the cellar.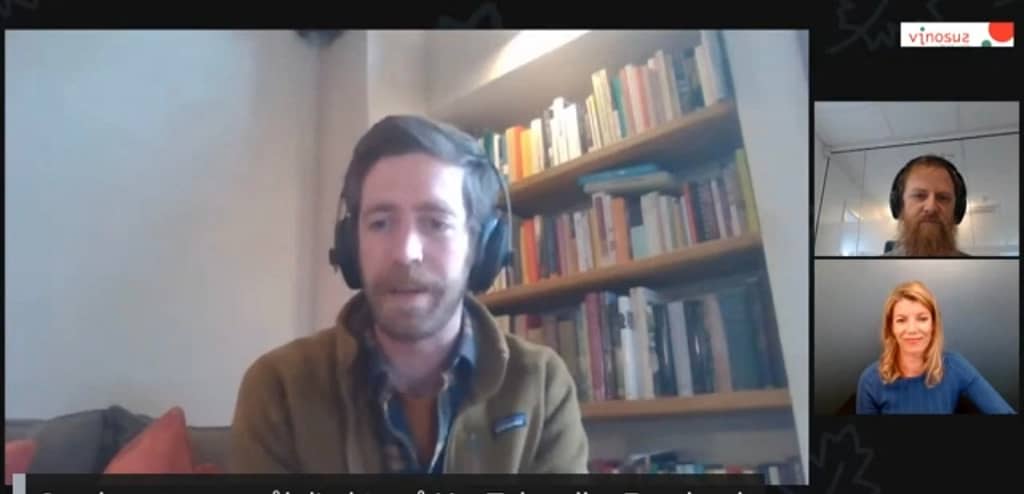 La Stoppa, the winery in Emilia-Romagna, can trace its roots back to the 19th century. The farm has now 58 hectares, of which 30 are planted with local varieties barbera, bonarda, malvasia, ortugo and trebbiano. One of the features that distinguish them from the mainstream is long skin-maceration, especially a particularity for white wines. Otherwise good raw material and little intervention are key words.
La Stoppa is found in Rivargaro, south of Piacenca. And Ageno, Giancarlo Ageno, was the founder, who bought the land that they own today. They have three little hills and three valleys around them. He planted some 40 different grape varieties, and was one of the first in the area to bottle his wines. There is a lot old red clay in the area, and rich in iron, not unlike parts of Bordeaux. This Nico tells while showing a picture of a bottle of "bordeaux" that Ageno made himself. It was in 1973 that Elena's father Raffaele, from Piacenza, bought the farm. It was when her father died in the 90's that Elena's mother convinced her to come back, and together with winemaker Giulio they decided only to focus on local varieties and to express the terroir of the farm.
La Stoppa makes basically red wines. Nevertheless, the one white wine, named after the founder, is maybe the most famous one.
Nico tells that it's not the climate that differs the most from the more famous neighbours (like Veneto and Piemonte), but the soils. Barbera with its acidity is the most important grape variety, as the cuisine is quite fat. Piacenza is more of a diverse farmland than many of the neighbouring wine regions. Around La Stoppa the vines are mostly on the hills, so when it's harvest time the animals will rather eat corn and tomatoes in the valleys floors than their grapes, explains Nico.
Interestingly the Ageno that the founder made himself was a müller-thurgau, riesling, sylvaner, moscato and sauvignon blanc, and made without skin-contact as today. The new owners continued that tradition (but mostly with chardonnay and sauvignon), untill the 90's, when it was changed to the wine that we know now, based on a thick-skinned malvasia. 2002 was the first vintage of today's Ageno, born as a nod to the history of skin-macerated wines, not only in Emilia-Romagna, but in Europe as a whole. -This is the reason I am here, tells Nico. -I was tasting the wine blind. It smells sweet, then comes the dry taste and the tannic mouthfeel. And the colour, within a year it changes from yellow to amber to dark orange. Ageno kind of plays with your mind, says Nico. In recent vintages 18, 19 and 20 the weather has been different; cooler with more rain. Thus the colour is much paler than in the preceeding vintages. The maceration lasts on skins untill winter, that is 3-4 months.
They always macerate everything outside in tanks without temperature control. So it's important that the temperature stays high, so the fermentation can continue. In 2016-17 there were sudden falls in temperatures, so they had to cover up the tanks.
You have understood that La Stoppa stands for a low-intervention winemaking, "hands-off" in the field, just spray copper and sulphur when necessary. It's a question of paying attention, prune well, and let time work. -Guilio's 40 years of experience lets him not needing to do anything.
A feature is also that they don't necessarily release the vintages chronologically. 2017 was ready before 16, and they also found out that to realease the 19 alongside the 16 could be a way for people to understand and appreciate the differences.
Ageno 2016
The grape composition varies. The 2016 is made from malvasia di candia aromatica 90%, the rest is divided between ortrugo and trebbiano. Here are some more key figures, in short: Quite young vines, 20 years. No fertilizing, no weed-killers. The soil contains clay silt. The trellis system is simple guyot. 4 months maceration on skins in stainless steel and cement tanks. Spontaneous fermentation with indigenous yeasts, aged in 40 hectolitre wooden tanks. No filtration, no sulphites added.
Deep golden, amber. Concentrated aroma with both fresh (red apples), dried and pickled fruits (apricots, figs), honey, floral overtones, and some volatile acidity. Full-bodied, fruity, evident tannins, long with good acidity and also here a slight volatile character.
Trebbiolo 2019
This is a rather unpretentious wine from the traditional blend barbera (60%) and bonarda from the lower plots. I like it a lot, and makes for excellent drinking now, with charcuterie, light meat or a variety of antipasti. Some key information: Organic farming with biodiversity. No fertilizing, weed killers or pesticides. Clay Silt. Mostly simple Guyot. Age of vines: 7, 15 and 40 years. 20 days maceration on skins in stainless steel and/or cement tanks. Spontaneous fermentation with indigenous yeasts, in stainless steel and cement tanks.
Dark ruby. Dark and red fruits (mature blackberry, freshness cherry), and a smoky tone. Medium weight with a bit firm, but agreeable tannins, adecuate acidity and a nice touch of stony bitterness.
Macchiona and Barbera are more "serious" wines. They have the potential to age for a long time (especially in cooler vintages). Ageno is a newer project, so the producer claims that one doesn't don't know yet its ability it has to age.
Leave a Comment