The Real Wine fair brings together small independent vine growers from all over, to celebrate their talent, and to illustrate the diversity in the world of artisan winemaking. This year the number of participants was around 160. The fair is organised by British importer and distributor Les Caves de Pyrène, with help from many good friends.
In addition there are guest speakers for the seminars, and it's possible to buy delicious food from the many food stalls set up for the occation. The city is bustling with activity in the days leading up to and during the fair, with many of the producers participating. And there are pop-ups, take-overs or what you like to call it when a restaurant has guest cooks from other restaurants.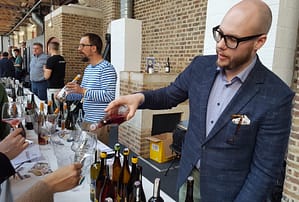 "So much wine, so little time…", a favourite quote about the fair
I will try to cover some of this in three chapters. Here are some of my most interesting findings from the fair itself. In the next article I will talk about Simon J. Woolf's seminar and his book. Last article will be from wine bar Terroirs, who received visitors from Norway.
Here are just a few of the many good wines I tasted. To prevent the Nile from crossing its banks, the rules of the game are: Pick 5 countries, 3 producers from each, then one special wine. Please search elsewhere on this blog, and you will find that most producers are already mentioned here.
UK
We start at home in the UK. Not far away in East Sussex and Kent we find British organic wine pioneer Will Davenport. From his Davenport Vineyards he offers well-made whites and sparklings. A new producer for me was Ancre Hill Estates, over in Wales, that showed sound winemaking and exciting results. Really expressive, and completely natural, were the wines of Tillingham, near Rye in East Sussex (not far from Hastings). The driving force is Ben Walgate, who also acts as cellar master and winemaker. All his ferments are wild, and he works with steel, oak and clay. He has some really interesting work with Georgian qvevri going on. But now…
PN Rosé 2018 (Tillingham Wines): A pét nat of mainly ortega variety (68%), the rest müller thurgau, dornfelder, rondo and pinot noir. The grapes are sourced from a number of growers, so there is also a mixture of soils and elevations. It was fermented in ambient temperatures. No filtration, fining or sulphur additions. The colour is salmon pink, has some natural sediment; a fruity aroma including gooseberry, rhubarb, some yeasty notes; refreshing acidity, easy drinking.
Serena and Ben of Tillingham
Austria
From Austria there were many splendid wines to chose from, and I could have written a long piece of praise only about the three chosen ones. Sepp of Weingut Maria & Sepp Muster were there with delicate orange wines and much more. Claus Preisinger has become a favourite with his stylish grüners, other whites, and his ground-breaking blaufränkisch reds. The "prize" goes to Christian Tschida this time, for his many superb offerings from the hot Neusiedlersee area.
Laissez-Faire 2015 (C. Tschida): This is a blend of pinot blanc and riesling (though I think it used to be a varietal riesling). Made in big barrels, no racking, no no…Christian is hinting to the laissez-faire philosophy, isn't he? The wine is yellow with orange hints, slightly pétillant; very fruity, appley with hints of anise and fennel; super acidity reach the tongue, it's rich, plays with oxidation. Very interesting, and very enjoyable drinking.
Christian Tschida (right) with Jimmy "just a friend"
Spain
Spain is one of my preferred countries, and very well represented on this blog. It was nice to see Pedro Olivares again, and taste his diverse portfolio of wines from sea level to 1700 meters in Murcia, Jaén and València. It's always a pleasure to taste the cool wines of Pedro Rodríguez of Adegas Guimaro in Ribeira Sacra. Daniel Jiménez-Landi of Comando G has worked hard for the Gredos (or: Cebreros) region, since he crossed over from the family farm in Toledo. For many years now he brought to the limelight some of the most elegant, mineral and simply inspiring wines that the country has to present. I use this opportunity to express my deepest compassion for all that is lost in the recent terrible fires (vineyards, trees and land).
El Tamboril 2016 (Comando G): This wine outside the program is sourced from a 0.2 hectares vineyard of garnacha blanca and garnacha gris on sandy quartz and granite at 1.230 metres. It's a result of the latest harvest. Whole bunches are pressed into concrete eggs, before 10 months in old French oak. The wine is light yellow; aroma of wild flowers and herbs, mature apples, some  ginger; full, concentrated and long, with super acidity. A great modern Spanish white.
Dani (left) with his friend and fellow Gredos vintner Alfredo
Portugal
Portugal has a similar position for me, and I taste some of the wines quite often. Pedro Marques' expressive, natural Vale da Capucha wines from the north of the Lisboa region are always worth a re-taste. The same can be said about Vasco Croft's Aphros range from the country's northernmost region Minho. Herdade do Cebolal on the Alentejo coast, in the southern part of Setúbal, was new to me. Luis had brought several interesting wines from small plots with a variety of soils.
Imerso 2015 (sea version) (Herdade do Cebolal): The main focus of interest this time was a wine that had been aged 10-18 metres under water, in collaboration with a professional diver that knows the coast intimately. We also tasted it alongside an "on land-version". And it must be said that the underwater wine was softer, more elegant. Maybe the maturation is faster. The colour was cherry red; aroma of plums, with a vegetal component; round in the mouth, quite polished.
The underwater version of Imerso alongside its "on-land" counterpart
Georgia
We now move out of "the old world" and into an even older wine world. Well probably. Anyway, Georgia has long traditions, and a long unbroken tradition of wines made in qvevri, big clay pots. When we also take into account the country's orange wines it's no wonder that Georgia has become such a wine pilgrimage destination lately. Iago Bitarishvili from the Kartli region offered some demanding wines. Some were aromatic, some with an intriguing mix of waxy texture and bitter taste. These wines I want to re-taste. Iberieli is a family producer (named Topuridze) located in Guria to the west and Kakheti to the east. Like the two other producers presented here they use the most familiar Georgian grapes like mtsvane, rkatsiteli and saperavi. They have also taken up the tradition of qvevri making. On to something more familiar: I have tasted Pheasant's Tears' wines at several occasions. But this was the first time I had met John Wurdeman, the man behind the label.
Tsolikauri-Vani 2018 (Pheasant's Tears): This time I tasted just a few wines. A really interesting wine was the Tsolikauri-Vani. Tsolikauri is a widespread variety in the west. It has a light skin, and John tells it gives fine acidity, good for semi-dry and semi-sweet wines. Vani is a place, and if my memory doesn't fail me it's here that the wine comes from. The winery is in Kakheti though. The wine is light in colour, with just a hint of orange; aroma of white flowers, apples, tea, some citrus; it's quite waxy in the mouth, well-balanced and, needless to say, with a good acidity.
John Wurdeman, with Gela Patalishvili
In next chapter from the Real Wine fair we will follow the orange wine track and also move over to other continents.
Leave a Comment