Pedersgata in the main street in what was earlier known as a tired eastern neighbourhood, but is now bustling with energy. Other fabulous restaurants like Bellies (vegan) and Sabi Omakase (Japanese with Michelin star) are also found here. This wonderful wine we tasted at Claes Helbak's new place Lapin in that street.
One of the wines I tasted at the opening night in March was Wilder Satz 2018, a very clean, pure natural wine from Bockenheim, Pfalz. Weingut Brand is now brothers Daniel and Jonas, 5th generation. When little brother Jonas joined in 2014 the then organic production was taken a step further to natural. In some wines are added a bit sulphur. This one not. Whole clusters of chardonnay, müller-thurgau and silvaner were pressed before spontaneous fermentation. Bottled unfiltered.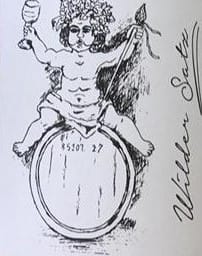 Wilder Satz 2018 (Weing. Brand)
Light straw, slightly turbid. Aromatic, yellow apples, lime and orange peel, and yeast. Energetic, with lovely acidity and low alcohol; long.
Price: Medium
Leave a Comment