At the Real Wine fair there were several seminars and guided tastings given by both winemakers and writers. Among the scheduled speakers were Heidi Nam Knudsen and Jon Passmore, who practise an alternative wine education focusing on vineyard practices and winemaking techniques. The topic at the fair was "Retasting Wine: How we can become more informed drinkers."
Alex Thorp conducted a "German Growers' Masterclass". Derek Morrison and Mike Hopkins of the Bring Your Own podcast interviewed a bunch of growers, among them Portuguese artisan Pedro Marques. Speaking of Portugal, Jamie Goode did just that together with Ines Salpico in the program "An Exploration of Portugal's Wine Revolution."
While I talked to some of these people on their way in and out of the seminar room, the only seminar I had booked beforehand was Simon J. Woolf's presentation of his book Amber Revolution through a tasting of five wines from the so-called New World.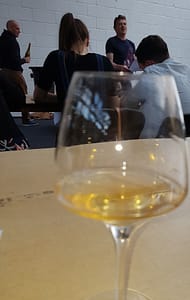 His seminar was informative, and there was a two-way communication. Simon answered questions from the audience with great virtuosity, and his short comments about each wine demonstrated how well-chosen the wines were.
Simon's definition of an orange wine is a wine made with skin-contact that exceeds the "normal" 3-4 hours. In other words, it's about the technique, more than the colour itself. He compares it to a white wine: -What colour is a white wine? White – as this paper?
Light examples from the tasting were Staring at the Sun 2018 (Momento Mori) and Elementis 2018 (Intellego). The first one, a citrussy, lightly spicy wine from Victoria, Australia, was quite light yellow, though it had been 6 weeks on skins. This because winemaker Dane Johns holds back on extraction. Elementis from Swartland, South Africa I know from several vintages; always fresh, appealing, this time very lemony, with green apple. Jurgen Gouws shares his colleague's philosophy of minimal extraction.
Other than this there was the Pinot Gris 2016 (A & D. Beckham), a pink, red-tinged wine from the grape that we know is not white at all. It's also known from Radikon, one of the natural and orange wine pioneers. This Oregon pinot gris was fresh, but warmer notes appeared after a while, and it was surprisingly smooth, the colour taken into account (also not usual for the variety). Vinu Jancu 2017 (La Garagista), an amber, beeswax, onion and plum smelling wine from the unlikely state of Vermont and the rare grape called la crescent and Chilion 2016 (Ruth Lewandowski), a lighter cortese with grapes from Santa Barbara, California, but made in Utah, finished the US American trio. It should be said that it's Evan Lewandowski that is behind this project, but he named the winery after the Book of Ruth.
Regarding a question about what wines work with extended skin-contact, he points out that thick-skinned varieties go well. Aromatic varieties too, can perfom very well, such as moscato and gewürztraminer.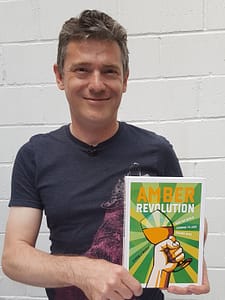 Simon J. Woolf has every reason to be happy with the book release
Amber Revolution
I have written a more extensive review of Simon's book in the Norwegian language for the Vinforum magazine. You can read it on my magazine page.  Here is a summary:
Simon J. Woolf has written what is referred to as the world's first book on orange wine. Woolf started his writing career in 2011 with the blog The Morning Claret for which he is still editor. He is also a regular contributor to journals such as Decanter. He is no well-known author though, and this is his first book. So there were no publishers who wanted to go for the project. That's why he started a crowdfunding through his website, and nearly 400 people contributed to the "Kickstarter" campaign.
Woolf currently lives in Amsterdam. And it can almost seem ironic that it took someone in close contact with the Netherlands, with the historical "Oranje" dynasty, to get the idea to write about orange wines.
The book is partly an introduction to the orange wine world, partly a cultural and history lesson. Woolf writes well and demonstrates early on that he is both the passion and the insight needed. It is fascinating to take part in this journey, from his first, emotional contact with the drink in Sandi Skerks cellar in Friuli. But then he takes us further back in time and goes chronologically from the ancient Georgia, that we know as the orange wine's cradle, via pioneers in today's Friuli and Slovenia (with Joško Gravner as the main character) and beyond.
There is also a section on recommended producers from many different countries. Finally, the financial contributors are listed. Among them there are some wineries, although I find no reason to assume that it has affected the journalistic selection. The fact columns contain information about food for orange wine, grapes that respond well to the technique, misconceptions about orange wine, how qvevri are made, etc. Taking these columns out the main story also helps to make the text flow better .
Ryan Opaz, who lives in Porto, is one of the founders of the Catavino site, where Woolf also contributes. Opaz has provided images that depict both landscapes and people in an exemplary manner. The book itself is also made of paper with a certain texture, which responds to the wines the book is about.
Woolf says he could use different names for the same phenomenon, such as skin-macerated wines and amber wines. After a discussion with himself, he has ended up calling it orange wines. His definition is based on the technique, not the colour. An orange wine does not therefore need to be orange, but it has had extended skin contact. It can be yellow, dark mahogany, or even reddish or pink in cases where the grape has a lot of pigment, such as pinot grigio.
Here we have arrived at a point that I assume he has thought about himself, the title of the book. After choosing orange wine as the preferred term, he ends up using amber in the title. The Portuguese carnation revolution emerges in my consciousness when reading the title, and compared with this the term "orange wine" could perhaps have added another dimension. And even though the events of the 1990s and up to the present seem like a revolution, in the long term it will probably be more correct to call what we now experience a "revival," or maybe a revitalization of a tradition. But none of this "troubles" me; Amber Revolution is a saleable title. And the subtitle, "how the world learned to love orange wines", puts it all in place.
I will not reveal too much of the content. But I think the sections about Friuli and Slovenia, the multicultural and multilingual area at the intersection of East, West and South – and the political backdrop that is hoisted – is a particularly good section of the book. Here the story of the world wars becomes a necessary part. The families of the leading producers were finding themselves on a veritable battlefield with changing actors, not least Italy, Austria-Hungary and Yugoslavia.
There are many who will enjoy this book. It is a niche book, but it at the same time exceeds the niche, and I would think that the vast majority of people interested in wine will find it fascinating, entertaining and enriching.
Amber Revolution – how the world learned to love orange wine
By Simon J. Woolf, foreword by Doug Wregg (director of import company Les Caves de Pyrène,), photo: Ryan Opaz
MCP Morning Claret Production, Amsterdam / Interlink Books, Northampton, Massachusetts
Leave a Comment