This was the cheapest and, for me, the most rewarding in a local wine club tasting of Oregon pinots. The wines were generally attractive, though expensive, and far from the stereotype that says pinot from overseas are heavy, dull and oaky.
Johan Vineyards is located in the Van Duzer Corridor AVA of Oregon. The corridor stretches east to west towards the Pacific Ocean, which gives cool temperatures and winds from the Pacific. The calcareous sedimentary soils with granite contrast with the more normal iron-rich volcanic soils in the north Willamette Valley.
Johan is Dag Johan Sundby, a Norwegian who came to Denver, Colorado, to study economy. Sundby wasn't particularly interested in wine at the time. But when he received an offer to invest in a vineyard in Oregon and went there, it was love at first sight. So he and his co-investor had no doubts. This was in 2004. He was supposed to go back to Denver to fulfill his plans. But in 2007 his partner got sick. He moved to Oregon, hired a winemaker and took over the entire winery.
There have been many ups and downs, and a lot of responsibility. It is not a job, but a way of life. In 2009, Sundby built a house on the farm and since then he has lived in the Willamette Valley in Oregon. The original farm was just a garage and one planted vineyard. The rest came later. In the beginning he grew three grape varieties which he mostly supplied to other producers, but today, on his 70 hectares of vineyards, he grows 14 different ones from which he makes wine himself. All the vineyards are grown biodynamically, and the farm was certified in 2010.
This wine comes from all estate-grown fruit. Vine age averages 10 years. It is native yeast fermented in stainless steel and aged for 9 months in neutral oak barrels.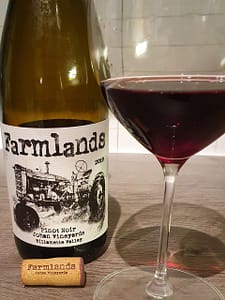 Farmlands Pinot Noir 2019 (Johan Vineyards)
Cherry red. Aroma of red fruits (raspberry, cherry), flowers and an earthy touch. Medium-bodied, fine and elegant texture, super pinot fruit and good acidity.
Price: Medium
Leave a Comment