Much can be said about Cava. The Spanish wish for not to be compared to the more famous and more glamorous Champagne will be left aside this time. But Cava is not a wine DO (meaning designated area) like others, in fact the map is a real labyrinth denoting production method rather than geography. During the last couple of weeks we saw both the Rioja contigent announce that they would leave DO Cava and label their sparkling wines under their own geographical name, and the Cava council has declared 12 vineyards to be of an extraordinary quality. It remains to be seen what effect this can have.
The vineyard where this wine comes from is not among them. Why? Manuel and Pepe Raventós, father and son, decendants of the founder of Spanish sparkling wine, left DO Cava some years ago. One can maybe say that this was to get away from the general poor reputation of Cava, but surely they wanted to focus on the positive side: To create an interest in the river basin where the wine is born. It's called Conca del Ríu Anoia, which is different from any other sparkling wines.
The estate totals 90 hectars between the Montserrat massif and the coastal ranges, where respect for the existing biodiversity is paramount, and the land is worked biodynamically.
The Textures de Pedra is an expression of the local black varieties xarel.lo vermell, bastard negre and sumoll, the Penedès climate and a stony soil, and the result of long ageing on the lees. The name suggests the stony origin in the vineyard called Vinya Més Alta ('the highest vineyard') that is found on top of the Turó del Serral, which is the highest point of their estate. Raventós explains that the roots have to dig deeper into colder layers, thus the concentration and structure in the wine. The wine was aged 42 months on fine lees.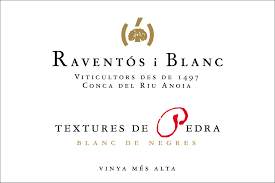 Textures de Pedra 2011 (Raventós i Blanc)
Deep yellow. Clear evidence of autolysis (toasted bread and nuts), baked apples and a citric note. Concentrated fruit, completely dry and with inspiring and food-friendly acidity. Talking about textures, it has a dry mouthfeel and the expected stony minerality.
Price: Medium
Food: Light meat, lamb, carpaccio, a variety of fish dishes, and the best serrano ham