Torremilanos of Ribera del Duero is a traditional bodega that is currently taking interesting steps into the future. I have during the last months re-tasted several of their wines, and I also visited their hotel and wine shop during my last trip to the area.
The winegrowing tradition of Finca Torremilanos, or officially: Bodegas Peñalba López, dates back to 1903. It was in 1975 that Pablo Peñalba López acquired the estate and the brand. This was seven years before Ribera del Duero was even recognized as an appellation. He immediately began producing estate-bottled wines, moving away from the former practice of selling bulk grapes to the local cooperative.
By the early 2000's, the eldest son, Ricardo, had become responsible for the wines. He began investigating organic and biodynamic farming methods, including horse-plowing, hand picking, and native-yeast fermentation. Since 1988 they have even produced their own barrels of French and American oak at their in-house cooperage.
Finca Torremilanos currently has 195 hectares of vineyards, surrounding the winery by the national road 122, outside Aranda de Duero. The site is varied in terms of land composition, orientation, altitude and microclimate. The vineyards are all located on the southern margin of the Duero river at an altitude of 800 to 900 meters. The vines grow in a range of soils -sand, rounded river stones, clay, limestone- and the parcels experience a number of different sun exposures. At Finca Torremilanos they practice dry farming cultivating the vineyards without herbicides or insecticides following the criteria of biodynamic agriculture. In 2015 they became the first producer in the appellation to be Demeter certified.
The Montecastrillo is made from mainly tempranillo and some 3% cabernet sauvignon. It was macerated between 5 to 7 days and fermented at 19-24° in stainless steel tanks with indigenous yeasts. After malolactic fermentation in steel the final coupage was carried out. Aging for 6 months in French and American oak barrels from their own cooperage (20% first and second use barrels). Lightly filtered.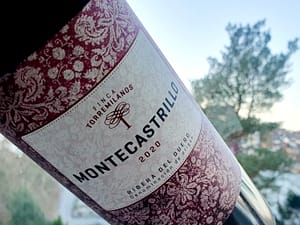 Montecastrillo 2020 (Bod. Peñalba López)
Dark cherry red. Aroma of red and dark fruits (blackberry, cherry), over a layer of spice (cinnamon). Fruity in the mouth, with an earthy tone, good tannins and a fine acidity.
Price: Medium
Food: Suckling pig and other roasts, casseroles, tapas and charcuterie