I'm in Oslo for the Skin Orange wine fair. In the Grünerløkka neighborhood, named after Friedrich Grüner in the late 19th century, what could be more appropriate than to open with a magnificent grüner veltliner? Mr. Grüner lived 250 years earlier, by the way, and served as town administrator and master of the mint.
Anyway, at Skaal Matbar I was surprised to see a wine from Stagard (or Stagård). They have been in Kremstal for 10 generations, and it was the father of Urban, one of the current owners, who introduced the family name to the business. I remembered them from my time as an importer and tasted all their wines many years ago. Since then they have taken on a biodynamic approach. This wine is a blend of two vintages, I think 2018 and 19. It's unfiltered and bottled with only minimal added sulfur.
At Skaal you can enjoy tasty small dishes to a selection of wines by the glass. At the moment they serve oysters, schnitzel, charcuterie and more, and the wines are a little bit of everything, thankfully not the same as offered by everyone else.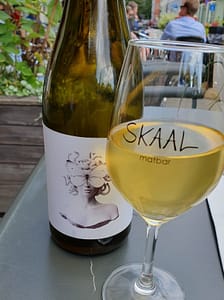 Medusa N/V (Lesehof Stagård)
Light yellow. Fresh aroma of citrus (lemon zest), baked apple, a light peel character and also a mineral touch. It's immediately appealing, but it also dense and tasty and has a certain complexity. Slightly spritzy, with a stimulating citric acidity.
Price: Medium