This wine was part of the wine menu at the vegan restaurant Bellies of Stavanger, Norway. (Read a little more about this unique restaurant here, if you like.)
Une Tranche Sudiste could translate a southern slice, or something like that, and a good slice it is. Philippe Jambon makes the wine in collaboration with producer Denis Tardieu, by using his grapes, from vineyards located in Vaison-la-Romaine (Rhône, south of France). The grapes are 85% syrah and 15% grenache, not uncommon in that area, spontaneously fermentated in steel with semi-carbonic maceration, with some whole-cluster and stems.The ageing is carried out in concrete tanks for a year and bottled with a tiny amount of sulphites.
Philippe and Catherine Jambon started their domaine in Chasselas, northern Beaujolais, in 1997. Their focus has always been eco-friendly activity, and as little additions as possible, with only the exact time in barrel that's needed.
Their vineyards were hit by terrible hailstorms in two consecutive years, resulting in a great loss. But it also give birth to the idea of working with other vignerons to make wind in his preferred style.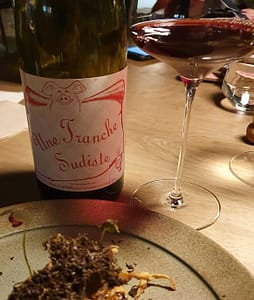 Une Tranche Sudiste 2018 (Ph. Jambon)
Dark young red. Red fruit (cherries, plums), but also some darker (blackberries), with a touch of leather and spice. Evident but rounded tannins in a long aftertaste where also fruit and spice comes through.
Price: Medium
Food: At the vegan restaurant we had it with fried cauliflower with shitake mushrooms, hazelnuts and a truffle sauce, but it will tackle many meat dishes too.