I am in Barcelona for two natural wine fairs (Vins Nus and Vella Terra). And I have just finished a well-prepared meal at the city's perhaps most iconic natural wine bar Brutal. And what could be more appropriate than to have one of Joan Ramón Escoda's wines as this week's pick?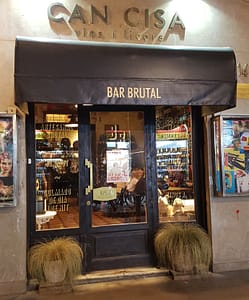 Joan Ramón is one of the owners, and he was the one who brought my attention to this fabulous bar a few years ago, though he has no active role in it.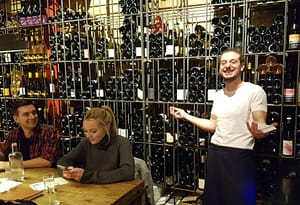 Waiter Lorenzo Gonelli entertaining the guests
Small plates like tuna tataki and 'sweetbreads' (here: pig's cheeks) and cecina de vaca, lightly smoked ham from cow, were accompanied by several wines: An inspiring, fresh, yellow, barrel-aged xarel.lo Essencial 2017 (J. Rubió) from Penedès, Qvevri, a full thick, earthy, sauvignon blanc from Loire, with some residual sugar (made by a distributor of Georgian wines in France), a terret-dominated blend called Rouge fruit 16/ Rouge de Causse 15  (Petit Gimios), a dark, green herb-scented Minervois. To round off it all I had the floral, yellow and rosa-hued Súpertock Ancestral (Bodegas Cueva), a fresh valencian pét nat from the tardana grape.
But in-between: A timely reunion with the following wine.
The owners have grown their grapes organically in the Conca de Barberà since 1996, biodynamic since 2003 and without additions of sulphur (or anything else) since the 2007 harvest.
This wine is made from the varieties cabernet franc, cariñena, garnacha tinta and merlot. It stays 10 months on the lees in inox, and clocks in at a relatively low 13% alcohol.
Nas del Gegant 2017 (Escoda-Sanahuja)
Dark red. Cherry and blackberry aromas, with flowers and a mineral touch. Lively in the mouth, with a fresh acidity.
Price: Medium
Food: Very versatile; aromatic and light meat, cured ham, cheeses, rice dishes, tasty salads, and much more…