Ana Carazo is La Loba, "The Wolfess", a passionate wine woman who loves the work in the field and in the cellar. I met her in Matanza de Soria together with Eduardo "Edu" Catalina Chuti, who is responsible for vineyards, and Gabriel Oprea from Romania, who lends a helping hand.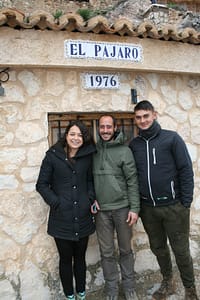 Ana, Eduardo and Gabriel
Ana, trained at the school of oenolody and viticulture in Requena (Valencia), now manages the centuries-old vineyards handed-down from her grand-father. We walked through the icy vineyards a freezing cold April day. A lot of those vineyards are old pre-phylloxera. There is a great variety of soil in small places, mostly sand, clay and loamy soil. It's more fine in the "north" (the Matanza de Soria area) compared to the area where we find the Dominio de Atauta and the Rudeles wineries (see an overview here). As Ana explains, "the river Duero marks a border between what we call the north and the south".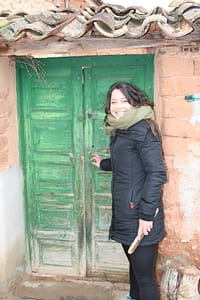 The green door in Matanza, featured on the labels
Matanza is a small settlement. The inhabitants are very few, but the extention is large. The name, meaning 'killing', comes from a battle during the Moorish times when everyone was killed.
From the vineyard Quintanilla de Tres Barrios
Sheep's wool as "manure", same vineyard
Ana's family has 1-1,5 hectares of vineyards. Eduardo counts on 7, that he uses for various purposes, both here, and he sells some to Atauta's Atalayas project too. He delivers wines with different profiles for the different villages.
Even this cold, in Matanza we have more problems with goat's kid and rabbit than frost, explains Ana.
Ana's vineyards are marked by green sticks, while Eduardo's are orange and pink
We climbed uphill for some magnificent views and a tasting.
The La Loba brand comes from old vines, 90 years+, and only pre-phylloxera. They are very structured, potent and rich wines. Ana calls La Lobita ('the wolf cub') "a different concept". Still structured wines from old vines, but also with a small percentage of the white albillo grape. This wine is fermented in lightly-charred American oak barrels with open top, they are de-stemmed by hand, then a light punching of the cap, whole grapes, and a light pressing.
La Lobita 2016, fermented for 5 months with natural yeast and no manipulation of temperature. The French oak was toasted "al punto" (just enough), 20-25% albillo was used, contrary to the normal 5%. "Every year is a different world, with its own expression, and one has to see what needs to be done", says Ana.
Cherry red with violet tones; aroma of red fruits, and a slight caramel tone; very fresh in the mouth and with good structure.
La Loba 2011: "This was very special for me", Ana says, "as it was my first vintage". Here is only new oak (14 months, 2 barrels were bought), but it was a good year for this oak ageing, a year with a lot of structure.
Some development in colour; still some oak, but lots of fruit, rounded tannins, and freshness and warmth side by side. (14% alc.)
La Loba 2014: Brigh cherry colour; red fruits, some blackcurrant, aromatic spices; lots of taste/power, but also finesse, great elegance, fresh – the most elegant of the lot, even if it has the highest alcohol level (14,5). It spent 10 months in the big barrels.
La Loba 2015: Considerably darker, and with a dense colour; darker fruits, blackcurrant and blackberry, but also spices; still it's lively and vibrant in the mouth (maybe due to the cold winter, even for Soria), and a long lasting finish. All in all very balanced.
These are short notes, but it was a special time and place: Over an old cellar we were sitting on a tiny veranda overlooking wide plains of the Soria province. Ana and her friends prepared a delicious meal while we were there; cutlets with kidneys and vegetables, from 'cordedo lechal de Soria', the young lamb that can be so delicious in this part of Castilla.
Ana down in that old cellar, owned by Eduardo's mother
As you can see on this map we are near the border of the DO Ribera del Duero, in the eastern part. Most of the Soria province is high-altitude. In Matanza we are 900 metres above sea level. The winters are long and cold, the rainfall is moderate, there can be late spring frosts. In this continental climate the summer temperatures are obviously higher. But the summers are short, and even then the nights are quite cool. This gives a long growth cycle, with healthy ripening and high quality.
The majority of the vines are pre-phylloxera, and the pruning system means that all tasks must be carried out manually. Almost everything is tempranillo, or tinta del país, as it's known here.
"We always wanted to know what essence came from those grapes of century-old vineyards, that tasted so good", says Ana, "and that also in oenological parameters they reached optimal points. When we in 2011 were given the chance to start this project, a dream had become a reality."
Ana takes great pride in promoting viniculture from a simple, natural perspective. And so, the name that was chosen, La Loba ("The Wolfess") marks, according to the project's website, "the character, the strength, the determination, firmness and guile". A picture of the two grandmothers is also given: "The sweet picture … shows us elegance, simplicity, delicacy, tenderness and balance."