A few weeks ago I wrote and introduction to the wineries of Soria. Read it here, including a note on one of today's wines. I will now follow up with two winery profiles.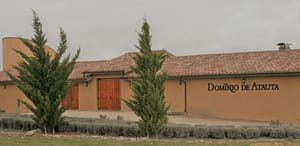 Dominio de Atauta is undoubtedly the leading quality producer in the Soria part of Ribera del Duero. I visited them again in April this year, and met Jaime Suárez. He is in theory the winemaker, while brother Ismael is viticulturalist. But as he say, they work together and consult each other, to have a greater understanding of the totality. The Suárez brothers and their team draw from the valley's five hundred years of experience in bringing the best out of the tinto fino (tempranillo) grape. Here are extreme conditions with little rainfall, the wind that blows though the vineyards and large temperature variations. Therefore the winemaking it quite easy, there is no great chance of diseases, so the traditional, sustainable way is good enough. All work is manual. The soil treatment is completely natural, with only animal and plant compost. According to tradition there is only goblet-training in the vineyard.
Soil types (Credit: D. Atauta/ Avante Selecta)
In the cellar there is not much intervention needed either. The vats are of various sizes and from different materials, such as wood, concrete and stainless steel.
Big oak vats in the cellar
Today they also count on the Atalayas de Golbán range. While Atauta is typical of Soria, the Atalayas represent the whole of Ribera del Duero. The distribution is roughly 50% of grapes from Soria, the rest is mostly from the Burgos province. This lets them offer more "typical" Riberas within the styles of joven, crianza, and reserva, that many people are more used to.
A winery neighbourhood, "barrio de bodegas", beside one of the vineyards. These are underground cellars from the 18th century
The Atauta Valley runs 4 kilometres east-west, and 1 north-south. Here they have identified 25 different terroirs. Jaime points to the bottom of the nearest hill where there are 2 meters of topsoil, and smaller, calcareous rocks. 22 hectares are their own, and they control another 23. This makes a total of 600 plots, all of them really small. Only one of these plots is grafted, the rest is pre-phylloxera.
What is different with Soria then? It's cooler, in general higher altitude, so the resulting wines have less body and tannin structure, but more acidity and freshness. In Jaime's opinion this is about it, because the soils vary as much here as they do in the rest of the denomination.
Jaime in the highest vineyard
Atauta's highest plot is at 990 meters. Here there is 2 meters of clay soil, that gives some structure, but the maturity is low and the acidity high. In contrast sandy soils give higher alcohol and richer wines.
A wine soon to be launched is called La Roza, and will from the 2013 vintage on be sourced from here. That is, from the right part. Note that to the left is another owner, that uses chemicals, hence the light colour, and the "dead" soil
They make three "single terroir" wines. -We can't say single vineyard, Jaime points out, as there is only made 450-1.200 bottles of each of them. La Mala from calcareous soil (a layer of only 60 cm), just 0,7 of a hectare in total. Still there are 10 plots. From these they first make four wines, age them separately, then taste to find the Mala to be bottled. Then it goes to barrel ageing for 18 months. It takes it name (La Mala = the bad one), because of the extremely low yield that this thin layer gives it was earlier considered unprofitable. Valdegatiles in contrast, has the deepest soil (1.6 metres up to the calcareous rock, and the highest content of clay of all their vineyards. It's thus a powerful wine, but also with the freshness and the minerality of the area. Llanos del Almendro is made with grapes from sandy soil with cobbles stones on the surface. The temperatures here are higher, because of the cobbles.
-We destem all of it, no pressing, first cool maceration (less than 10 degrees), work them twice a day, pumpover and plunging, then raise the temperature.
A word on fermentations, that are almost always "spontaneous", but only almost always: -If we can fill a tank from one terroir, we use only natural yeast. If we need to add grapes we use selected yeast. Why? Because we want to control the fermentation. With this operation we don't want to change anything, we are just interested in completing the fermentation.
The only oak employed is of French origin. -For Parada 40% new, then 3rd and 4th use, for 14 months. For the other wines there are different variations according to what we want to achieve, says Jaime.
A short tasting started with one Atalayas wine, the rest were from the Atauta valley.
La Celestina 2015 Crianza (Atalayas de Golbán) sells for less than 10€ in the shop. The grapes are sourced 60% from Soria, the rest from La Horra, near Roa (Burgos) in central Ribera del Duero. 20-25% is new oak.
Cherry red. Full of fruit; red fruits (from the Soria part), blackberry (from Burgos), a touch of lickorice and pepper. It's full and smooth on the palate, with integrated wood, the Burgos grapes also give some structure.
Parada de Atauta 2014 is fairly new in the assortment. 50-70.000 bottles were made. It retails for around 18€, and it's by no means an ordinary entry-level wine. It's made from minimum 80 year old vines, from sandy/stony soil, in and around Atauta.
Dark purple. Fresh, floral aroma with blueberry and blackberry. Smooth tannins, a cool acidity, and a dark minerality.
Dominio de Atauta 2014 is a tremendous wine from 120-160 year old vines, only pre-phylloxera. This is the final blend of the 25 terroirs, so this is probably Atauta's most complex wine).
Cherry red (lighter in colour than Parada). Floral aroma, raspberry and blackberry, aromatic herbs, some oak in the back. Good structure with mature tannins, minerals (chalk), a touch of coffee. It's very long, and you feel the flavours come back in waves.
Valdegatiles 2012 (1,2 ha. 100% clay, fermented in steel with natural yeast): Cherry red, not very developed. Lots of fruit, red and black, tobacco and oak is just a sense or feeling in the background. Powerful structure, intense, and a long, fruity aftertaste.