I have met Juan González Arjones at a couple of natural wine fairs, last time this February in Barcelona's Vella Terra.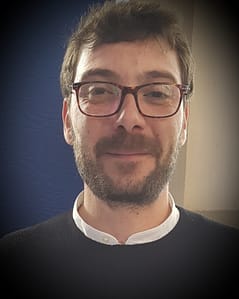 Following his enology studies Juan worked at Coto de Gomariz (Ribeiro), then in Italy's Barbaresco, at a small family winery, and later in a wine shop in Torino. With this background he returned to his native Crecente, in the Rías Baixas subzone Condado do Tea, to start his own project As Furnias.
He has also been managing a vineyard for the more famous Terras Guada in O Rosal nearer to the ocean. It was also down there that Juan planted his first vineyard.
Crecente was historically an area for red wine, with many varieties and soil types. While the focus naturally has been on varietal alabriño, part of Juan's goal has been to bring back the traditional red wines.
The soils are sandy with granitic origins and a high quartz content.
In the vineyard the soil is covered with grass. In the winter sheep is a natural fertilizer, and the only treatment may be the bordeaux blend. In the cellar fermentation is always with natural yeasts. The fruit is de-stemmed and only a selection of mature grapes is used. Batonnage is used 2-3 times a day for 12-15 days. Then the grapes are hand pressed, taken back to steel tanks, naturally starting malolactic fermentation. There is
 a light clarification with egg white, but no
 filtering and no additives other than the minimum sulfur before bottling.
This wine is made from 40% brancellao, 30% caíño longo, 15% sousón, 10% espadeiro and 5% touriga nacional.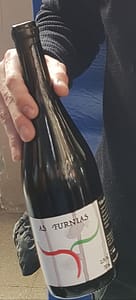 As Furnias 2015 (Juan González Arjones)
Cherry red, slightly carbonic. In the aroma it has many layers, both mature red fruits, but also some fresh berry, like raspberry, redcurrant, and also a hint of earth and underwood. Rounded tannins, herbaceous notes, long aftertaste with a lingering acidity.
Price: Medium