I am travelling Rueda in search of the historic wines of the area. Vidal Soblechero has this, and I will come back to it in a future post. Now I want to bring your attention to something that sadly is scarce, organically made verdejo from single plots, old bush vines – and this producer even disposes of beautifully aged wines of that sort.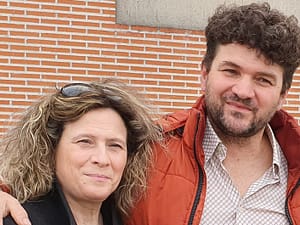 It's always a pleasure to see Alicia and her brother Vidal Vidal Soblechero (no misspelling here!) and their falcons in La Seca, DO Rueda area. I really wonder why this estate is not more famous. From the young Clavidor to their single plot wines, the reds and their historic dorado wine, this is nothing but perfect.
We were driving through Finca Varrastrojuelos, a vineyard that also gives a very special viura. The highest part is a two hectare piece where the Finca El Alto wine is sourced. This part of the plot has around one-hundred years old verdejo on partly decomposed limestone. Here are many pebbles in the surface. Strong winds are frequent, but less dangerous than in other plots. In the middle of the plot is planted a fig tree. The idea is that the ripeness of the figs shall advise on the time to harvest the grapes.
The wine is fermented and aged for 10 months in two 300 liter oak barrels. 730 bottles produced.
Pago de Villavendimia Finca El Alto 2013 (Vidal Soblechero)
Clear yellow. Mature apples, white pepper, a touch of exotic fruit. Glyceric in the mouth, a hint of caramel, long taste with integrated acidity. A true, authentic aged verdejo still in its prime.
Price: Medium