It was in the evening of the Haro Station Wine Experience. Lunch was over and I was walking around in the streets of the Barrio de la Estación, where many of the leading bodegas establish themselves after the railroad came to town and a new area started, with Rioja as a leading brand and Haro as its capital.
I decided to step into the mythical bodega and there stood María José López de Heredia opening a mysterious bottle. I didn't know exactly what it was when she poured it. But indeed I understood that it was a white Tondonia and that I had stepped back in time.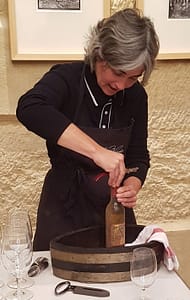 María José opens the white '64
López de Heredia's wines must be one of the most legendary in Spain, and well-known for being made the same way since the winery's foundation 130 years ago.
Only grapes from their own vineyards are used, for this wine one from their most emblematic Viña Tondonia, a 100 hectares pago not far from the bodega. The soil is clay with a high limestone content. It's a large vineyard with varying plantings and grape varieties, but average age is around 50 years. The cultivation is organic.
To get the fermentation going they simply wait. And if it looks like it's going to be difficult one can only open the windows, as in Haro there are often big differences in night and day temperatures.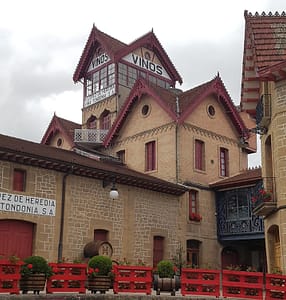 Art nouveau, a building style in fashion at the turn of the century
The wine is made from 85% viura, 15% malvasía and has 12% alc. It stayed 6 months in wooden deposits, then 9 years in old barriques of American oak, treated in the bodega's own cooperage. It was racked manually 18 times, then clarified with egg whites. It was then bottled from the barrels in July 1973 without filtering.
Viña Tondonia Blanco 1964 (R. López de Heredia)
Golden colour towards amber. Notes of dried fruits, toasted almonds, citrus and a touch of honey (without the sweetness, if that makes sense). It's almost like walking in an old sherry bodega. Glyceric and rich, with a smooth texture. Low alcohol, high natural acidity, and a salty finish. But even if there are other barrel-aged whites this is almost in a category of its own.
Price: High (if you can find it at an auction)
Lastly, the bodega is always referred to as a very traditionalist bodega, and rightly so. Here is how they define their form of traditionalism: